You may download and install the updated Nvidia GTX 970 drivers for Windows 10/11 PC to avoid annoying graphic card issues. This article shares the easiest and quickest ways to do it.
Nvidia GTX 970 is a graphics card made for serious gamers. It delivers the most power-packed performance. However, like every other peripheral, it needs a helping hand like Nvidia GTX 970 drivers to ensure you get the most out of your video card and have a pleasant gaming experience.
The Nvidia GTX 970 drivers for Windows 10/11 are a connecting bridge between the graphics card and your computer, helping them execute your commands efficiently.
Therefore, this article elaborates on how to download the Nvidia GTX 970 drivers for Windows 11/10, install, and update them. Let us discuss the most effective ways to do it without wasting your highly precious time.
Methods to Download and Install the Updated Nvidia GTX 970 Drivers
You may follow the methods shared below to download the Nvidia GTX 970 drivers for Windows 10/11 PC, install them, and get them updated.
Method 1: Download the Nvidia GTX 970 driver update from Nvidia's website
The official Nvidia website is the home to all driver updates for the Nvidia graphic cards. You may go there to download and install the latest Nvidia GTX 970 drivers for Windows 10/11. The following is the detailed process to do it.
Navigate to the official website of Nvidia.
Choose Drivers from the menu bar at the top.

Select GeForce from the Product Type dropdown menu.
Choose GeForce 900 series from the Product Series menu.
Select your product, i.e., GeForce GTX 970. 
Next, choose your operating system. 
Now, you may choose game-ready or studio drivers. The Game Ready drivers are for users who prioritize launch day support for the latest games, DLCs, and patches. A Studio driver is for video editors, animators, photographers, graphic designers, and live streamers who prefer stability and quality for better creativity. We wish to download the Game Ready drivers.
Select your language from the available options.
Click on the button to search for the required drivers.

Download the available driver file.

Double click on the downloaded file and follow the directions to install the Nvidia GTX 970 drivers for Windows 10/11 PC.
Also know: How to Uninstall Nvidia Drivers on Windows
---
Method 2: Try downloading the Nvidia GTX 970 drivers through Device Manager
Every Windows PC has a utility known by the name Device Manager to download and install essential driver updates. Though the process to update drivers this way might seem quite time-consuming, you may follow these steps to download and install the Nvidia GTX 970 driver's update via Device Manager.
Search Device Manager on your computer and launch it.

Expand the category of Display adapters by making a click on it.
Click on the Nvidia GTX 970 graphics card using the right mouse button.
Update driver for your selected device.

Search automatically for updated driver software. Windows 11 calls this option "Search automatically for drivers."

After the process of driver search, download, and installation completes, restart your PC.
---
Method 3: Perform an operating system update to install the Nvidia GTX 970 driver's update for Windows 11/10
Updating the operating system is also among the methods to download the missing drivers and update the outdated ones if the driver update is not extremely recently released. You may use this way to get Nvidia GTX 970 drivers for your PC. Below is the series of steps you need to follow to do it.
Apply the combination of Windows and I keys to make available the Settings panel.
Choose the option named Update & Security from the panel available on your screen.

Click on the tab allowing Windows to Check for updates.


Download and install the updates available on your computer for the operating system.
Lastly, you may need to restart your computer to complete the update process.
Also know: How to Download and Update NVIDIA GeForce GTX 1050 TI Drivers on Windows
---
Method 4: Download and install the Nvidia GTX 970 drivers automatically (Recommended)
Above, we looked at all the manual ways you may try to download the Nvidia GTX 970 driver's update and install it for Windows 10/11 PC. As you might have felt, these methods are too complicated for a beginner and time-consuming for even a computer expert. Therefore, we recommend downloading and installing driver updates automatically.
In our opinion, you should download driver updates and install them with just a click using an automatic software like Bit Driver Updater.
The Bit Driver Updater software updates all problematic drivers with a single click of a button. Moreover, it delights the users with features like driver backup and restores, acceleration of the download speed, scheduling the device scan, and many other useful tools.
You may use the link shared below to try the Bit Driver Updater software and experience it. 
 A few seconds after downloading the software from the above link, you get a list of old drivers on your screen. You may review the on-screen list and Update All the troubling drivers to the latest version with just a click.
Bit Driver Updater also has the Update Now tool for users who wish to update only their Nvidia GTX 970 drivers. However, tech experts always find updating all drivers better to ensure smooth device performance.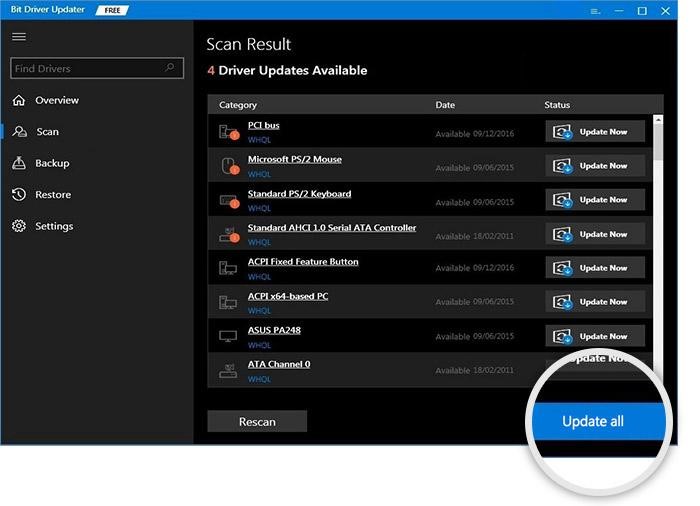 ---
Nvidia GTX 970 Drivers Download, Installed, and Updated
This article discussed many effective ways (both manual and automated) to download and install the updated Nvidia GTX 970 drivers for Windows 11/10 PC. You may go through them and implement the one that suits your needs.
However, if you need our recommendations, we strongly suggest updating drivers with Bit Driver Updater to save you ample time and effort for other crucial tasks.
If you know other better techniques to download and install driver updates, you may mention the same in the comments section. And do not forget to add our blog to your daily needs to keep yourself updated about the latest technology.
Author: Snehil Masih
Snehil Masih is a professional technical writer. He is passionate about new & emerging technology and he keeps abreast with the latest technology trends. When not writing, Snehil is likely to be found listening to music, painting, traveling, or simply excavating into his favourite cuisines.