Know some workable solutions here to fix Minecraft launcher not working on Windows 11/10 PC
Minecraft, a popular game since decades, has an incredible design and is among the most widely used games till date. This game encompasses its players in a virtual world where they have to win against zombies, spiders, monsters, and whatnot! Hence it's quite fascinating to get lost in the world of Minecraft.
However, at times the fascination breaks when Minecraft won't launch on Windows 10 PC. Gamers might get disheartened and wonder why won't Minecraft launch on their computer.
But let me tell you that you are not alone facing this issue and hence we present you with this blog that will inform you about the best tips, hacks, and methods to fix the problem of "Minecraft launcher won't open."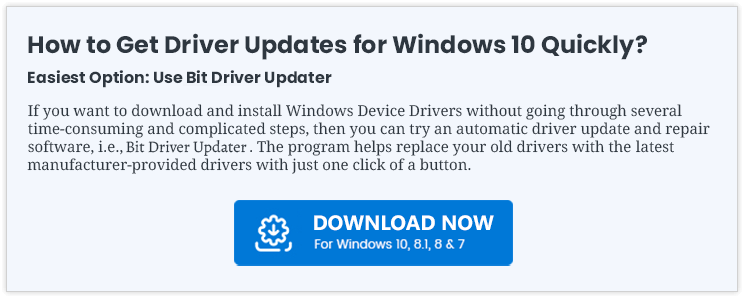 Why won't Minecraft launch?
Before we learn about the solutions to resolve the issues of Minecraft launcher not working, let us grasp why won't Minecraft open first.
Here are a few of the most common reasons why Minecraft is not responding or launching:
The game gets updated by the game developers on a regular basis via the official launcher. Sometimes, after an update, the Minecraft launcher won't open, thereby ruining the game.
Otherwise, if the computer on which the Minecraft game is installed is not fulfilling Minecraft system requirements.
If the graphics card driver of your Windows 10 computer is not updated.
If gamers have installed too many mods, then also it could be that Minecraft won't load.
---
Easy Fixes for

Minecraft Won't Launch on Windows 10:
We have jotted down the most effective methods to fix the Minecraft won't launch issue below. Go through them and discover the most useful method for yourself.
Fix 1. Some General Tips
If Minecraft won't launch, then you can first of all try to fix some general errors. They are as follows:
A. Ensure that Your PC Fulfills Basic System Requirements to Run Minecraft
Before you install the game on your PC, you need to make sure that your Windows system is compatible with the game as per its basic system requirements.  Let's have a look at the minimum specifications that are needed to play Minecraft on Windows 10-based laptops and desktop computers.
| | |
| --- | --- |
| Specs | Minimum Requirements |
| Operating System | Windows 7 or higher |
| Processor (CPU) | Intel Core i3-3210 3.2 GHz / AMD A8-7600 APU 3.1 GHz or equivalent |
| Memory (RAM) | 4GB RAM (2GB free) |
| Storage (HDD) | 1GB HD space |
| Video (GPU) | Intel HD Graphics 4000 (Ivy Bridge) or AMD Radeon R5 series / NVIDIA GeForce 400 Series or AMD Radeon HD 7000 series |
| Network | Broadband Internet connection |
B. Install Updates Regularly
Whatever game updates are available via the official launcher, you must ensure that you install all of them to keep your game up-to-date. Updates are often released by developers to fix certain existing issues, bugs, security holes, etc. Hence it is a must that the game is always up-to-date.
C. Disable the Antivirus
As it is known that the antivirus solution keeps scanning your system in the background to detect malicious programs. When the Minecraft game is launched, it utilizes heavy system requirements and the antivirus might block it (mistaking it to be a malicious program).
Thus, disable the antivirus software momentarily to see if that resolves the issue. If it works, then replace the current antivirus with another antivirus tool that won't interfere with the game.
Note: Minecraft's official help center has listed applications that are known to be incompatible with the game and you should uninstall them from your computer system in order to play the game smoothly. Talking about the incompatible software, AVG antivirus, Discord, BitDefender, and more are on that list.
D. Run Minecraft as an Admin
If Minecraft launcher not working issue persists, then do the following:
1. From the Start menu, click right on Minecraft and select the option of Run as administrator.
2. Then, launch the game and see if using admin privileges resolved the error.
If you have tried the above tricks, yet Minecraft won't launch on your Windows 10 or Window 11 computer, then you can try the advanced methods mentioned below.
---
Fix 2. Employ Task Manager to End Minecraft Game
Having trouble with the Minecraft game because of the Minecraft won't launch error? Resolve it by forcibly ending the game process with the aid of the Task Manager tool of Windows. Take a look at the below steps for further guidance:
Right click on the taskbar below and choose the Task Manager option to open it on your screen.
You will see a number of processes running. Scroll and find Minecraft or Java.
Once located, click right on it and select the End task option.
Doing the above action will forcefully kill the running game after which you can launch the Minecraft game again to see if the Minecraft launcher not working issue is resolved.
However, if you are still seeing "Minecraft won't launch" error, then you should consider trying the below fixes.
Also know:How to Fix Roblox Not Launching Windows 10 [2023 Tips]
---
Fix 3. Automatically Update the Display Card Drivers
Another way to fix Minecraft won't launch error is by updating the graphics card driver on your Windows 10/11 computer. Graphics card driver plays a key role in running the games smoothly apart from being responsible for handling the display of the system.
Thus, if games ever come across any abrupt issues with their game such as the Minecraft launcher not working error, etc then they can always update their old, missing or damaged graphics card driver which might be causing the issue.
Minecraft won't launch at times until you are using the latest version of the graphics card driver installed on your Windows system. It can be updated with the help of the completely free driver updater tool that will identify the faulty drivers of your system and install the latest updates available in its driver database automatically.
We would recommend that you use a powerful tool like Bit Driver Updater that comprises various user friendly features. Thereby, using a tool to update display card drivers can save your time and furnish you with a smooth performing PC as good as a new one.
---
Fix 4. Run Minecraft in Compatibility Mode
If the above issues have still not resolved the problem of "Minecraft won't launch" then you can execute Minecraft in Compatibility Mode.
This can help if you have installed previous versions of the game like Windows 8 version but you are actually running the game on Windows 11 or 10 PC. Running in Compatibility Mode will help to use the previous settings of the game that will fix the Minecraft launcher not working issue. We have elaborated the method below.
1. Right click on the Desktop icon of the Minecraft game and then choose Properties.
2. Go to the Compatibility tab of the Properties window and tick on the box which is placed beside the option "Run this program in compatibility mode for:"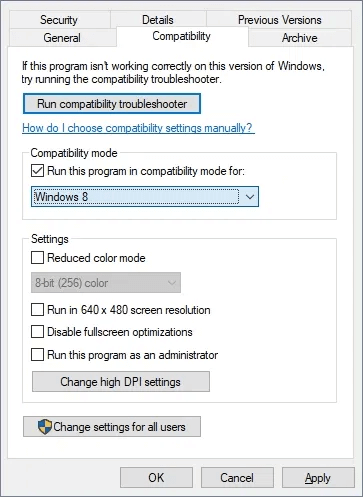 3. Finally, select the OS from the dropdown menu located below the above option.
For example, choose Windows 8 or Windows 7 as applicable.
4. Lastly, you can press the Apply and OK buttons in succession.
Now check if Minecraft won't launch is resolved? If not then, jump to the next fix.
Also know: How To Fix Rockstar Games Launcher Not Working on Windows
---
Fix 5. Remove Your Minecraft Mods
There are tons of Minecraft mods available on the internet that gamers can use to add or remove content to the game. These user-made modifications or mods for Minecraft can certainly enhance your gameplay, but they also can cause problems, such as Minecraft for Windows 10 won't launch.
So, in order to resolve the problem, you can try to play the Minecraft game without mods. After removing all your installed mods from the Mods list, check to see if you are able to launch Minecraft and connect it to the server.
---
Fix 6. Try to Reset Windows Store
In order to get rid of the Minecraft not launching issue, you can also consider resetting the Windows Store. Many Minecraft players claimed that this has worked for them. Follow the steps below to execute this tactic:
1: Launch the Run Dialog box by pressing the Windows logo + R keyboard buttons at the same time.
2: Then, write the text wsreset.exe inside it and press the Enter keyboard button.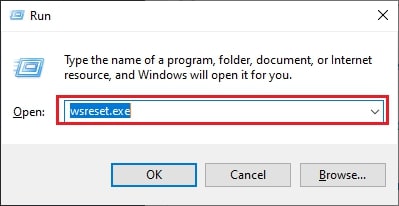 3: Wait for the command to execute.
Once done, then reboot your computer and try to re-launch the game to check whether the Minecraft launcher not working is resolved or not.
---
Fix 7. Reinstall Minecraft
This is our last method to fix the issue of Minecraft won't launch on your Windows 10 and Window 11 computer. Reinstalling the game might solve the problem and enable you to launch the game successfully.
1. Open the Windows Run dialog box and type the command – %AppData%.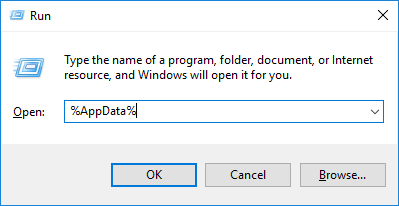 2. After this, hit the Enter key on your keyboard.
3. The above command will open the Windows file explorer.
4. You need to then click right on the folder named .minecraft and then select the option of Delete.
5. This will uninstall the Minecraft game.
6. Finally, go to the launcher and reinstall Minecraft on your Windows 10 computer.
Also know:How to Fix Steam Games not Launching or Opening on Windows
---
Frequently Asked Questions (FAQs)
Here are some most common questions related to how to fix Minecraft launcher not opening Windows 10 and Windows 11.
Q1. Why is the Minecraft launcher not responding?
The Minecraft launcher failure or not responding error mostly occurs due to outdated graphics card driver, improper game installation, and mods that you've installed into the game.
---
Q2. Why is my Minecraft so laggy?
Typically, the Minecraft lag or noticeable drop in frames per second (FPS) is the result of a slow or inconsistent internet connection. Another possible factor responsible that could contribute to slowness in Minecraft is insufficient system memory (RAM).
---
Q3. How do you reset the Minecraft launcher?
Follow the steps shared below to reset the Minecraft app:
In the Windows search box on the taskbar, type 'Apps & features' and select the Best match result.
Now, click on the Advanced options link under the Minecraft app.
Scroll down to the Reset section and then click on the Reset button.
---
Q4. How to Fix Minecraft Windows 10 Edition Not Loading?
If Minecraft Windows 10 edition not loading, try these helpful solutions to fix the issue.
Check for the latest system updates.
Run Windows troubleshooter.
Update outdated video card drivers.
Launch the game as Administrator
End unnecessary processes & apps.
---
Q5. Why is My Minecraft Launcher Not Opening?
There could be multiple reasons why the Minecraft launcher not working. Below we have listed the most common ones:
Poor & unstable internet connection.
Corrupt or misconfigured launcher file.
Driver issues.
The Windows OS version is not up-to-date.
Too many mods.
---
Q6. How to Fix Minecraft Launcher Not Opening?
The majority of the time Minecraft launcher won't open due to driver issues. If you are using an outdated, incorrect, or corrupted video card driver, you may encounter this problem. In addition to resolving this issue, updating the respective drivers from time to time is necessary. To automatically update the outdated device drivers, you can use any trusted third-party software like Bit Driver Updater.
---
Minecraft Won't Launch on Windows 10/11: Fixed
Minecraft allows you to be a lot of things and do a lot of activities in its virtual world, thereby allowing many to live their fantasies for some moments through the game. After all, who does not love fantasies?
Therefore, if you ever find yourself encountering problems with your favourite game, then you can refer to our guide to resolve those issues. If Minecraft won't launch on Windows 10, then you can hopefully resolve the problem with our methods given above.
We would look forward to hearing from you which method (of Minecraft launcher won't open issue) worked best for you and why. You can leave your comments, suggestions, or queries in the comment box below.
Author: Snehil Masih
Snehil Masih is a professional technical writer. He is passionate about new & emerging technology and he keeps abreast with the latest technology trends. When not writing, Snehil is likely to be found listening to music, painting, traveling, or simply excavating into his favourite cuisines.