How do you manage the network bandwidth on your computer? Well, many users look for better ways to manage their internet bandwidth more smartly, especially when multitasking and using numerous apps simultaneously.
So, one such way is available via the Killer Network Manager Windows 10. Many users download and utilize the Killer Network Manager to manage the internet data on Windows 10 computers in a more structured and streamlined manner. The Killer Network Manager driver is now the killer control center or the killer network suite.
So, if you want to have complete knowledge of the Killer Network Manager, then this post is for you.
The Ultimate Way to Download & Update Killer Network Driver on Windows PC
The manual process is not an easy task as it requires a lot of time and patience to update drivers. Therefore, users are advised to update drivers automatically through professional driver updating programs like Bit Driver Updater. The program comes with a host of powerful features that makes the process of updating drivers easy and breezy. Below is the download button for the program.
Everything You Need to Know About Killer Network Manager:
If you are wondering what a Killer Network Manager is, then let me tell you that it is now known as the Killer Control Centre which is developed by Killer Networking. Killer Networking has replaced the Killer Network Manager with the Killer Control Centre.
It is mainly developed for managing the Killer Network adapters. This is a program or a network management suite that is responsible for monitoring the application-wise usage of internet data on your Windows 10 system.
So, the Killer Network Manager or Killer Control Centre helps to allocate the network bandwidth to particular programs which need access to the high-speed internet network for operation.
Thus, it prioritizes running programs that need more internet speed to function smoothly compared to other apps and services on your Windows 10 computer.
It is to be noted that this is not an in-built program of Windows and hence has to be downloaded and installed on your system.
---
How to Download and

Update Killer Network Manager?
If you are in desperate need of the Killer Network Manager software to help you manage your internet bandwidth appropriately, then learn how to download and update the Killer Network Manager.
Option 1. How to Download Killer Network Manager?
Want to know how to download the Killer Network Manager application to optimize the network usage of different applications and services on your Windows 10 system? Here is how you can download the Killer Network Manager from the Killer official website.
1. You will need to go to the developer's website to download the program.
For downloading the whole new suite, you have to head to the Killer Control Center support page to get the required Killer Control Centre suite as per your processor (32-bit or 64-bit).
For Killer Network Manager software, navigate to the Killer Network Manager Suite download page.
2. For downloading Killer Network Manager software, after clicking the above link you can scroll down and navigate to the Archived Downloads.
3. Click the Killer Network Manager Suite underneath Archived Downloads to initiate the download process of the driver package.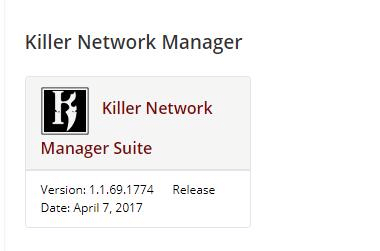 4. You can then double-click the driver installer file (NetworkManager.exe) to run the setup process for installation.
5. Then, you can follow the setup wizard's instructions to complete the installation steps.
6. Ultimately, you can reboot your computer to make the changes effective.
Also know: How To Fix HP Printer Not Connecting To Wifi Network Error For Windows PC
---
Option 2. How to Update Killer Network Manager?
Considering that you have downloaded the Killer Network Manager successfully according to the above steps but you also need to know how to update it on a timely basis to avail promising new features and to also avoid experiencing problems with the app because you are still working with its outdated version.
For updating your Killer Network Manager software, you can use the Bit Driver Updater tool which is an ideal tool for updating device drivers. You can use the below steps to work with this tool:
1. Download and install the Bit Driver Updater tool on your system.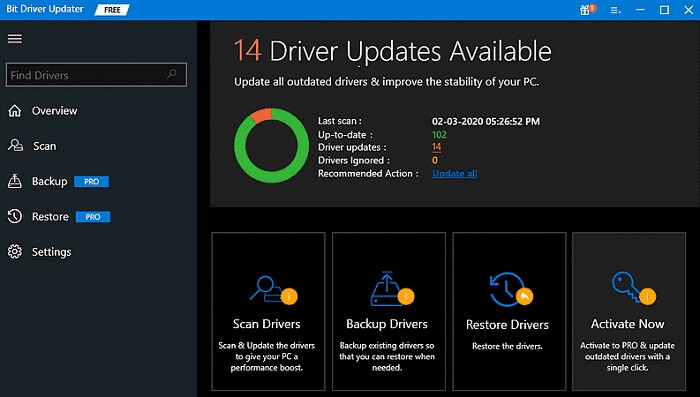 2. Then, use the Scan feature to detect the outdated and broken drivers of your system.
3. After this, use the one-click Update feature to download and install the latest Killer Network Manager driver updates from the extensive database of this tool.
4. Reboot the Windows 10 system after the automatic download and installation is complete.
---
Frequently Asked Questions: Killer Network Manager Driver
If you have any questions related to the killer network manager windows 10, then we think the below provided frequently asked questions can help you:
Q1. Can I remove Killer Network Manager?
Yes, you can remove the Killer Network manager Driver Suite very easily. Just press the Win+X keys, open Apps and Features, then select the uninstall button under the Killer Network Manager Suite.
Q2. How do I update Killer network drivers?
To update the Killer Network Drivers, you can take the help of the Bit Driver Updater as it is the only safe to get the updates for all kinds of drivers with a single click.
q3. How to use killer network manager? 
You can use the Killer Network Manager but run it from the Start menu first, and then open Settings. Now, enter the internet speed credentials from the services provider and check the box of Enable Advanced Stream Protect before you finally click on Apply Changes.
---
Killer Network Manager: Downloaded & Updated Successfully
Thus, from the methods mentioned above, you learned how to download Killer Network Manager driver for Windows 10 with ease on your computer for allocating the network bandwidth to different apps based on their requirement in a streamlined and optimized manner.
It is also essential to keep updating the network management suite from time to time to avoid facing abnormalities and to avail of advanced functions and features. You can always use the tool recommended in our article to update the Killer Network Manager program effortlessly.
Author: Snehil Masih
Snehil Masih is a professional technical writer. He is passionate about new & emerging technology and he keeps abreast with the latest technology trends. When not writing, Snehil is likely to be found listening to music, painting, traveling, or simply excavating into his favourite cuisines.