Signzy Technologies is an India-based AI-powered fintech company that offers digital onboarding solutions for banks, NBFCs, and other financial institutions. The company has announced that it has received a US patent for banking in the metaverse, which would entail new customer signup and onboarding using virtual reality and augmented reality technologies.
The patented technology by Signzy would enable banking customers to interact with their banks in a virtual reality model perfectly reproducing the physical branch or office. In addition, the technology would support richly detailed VR models illustrating the bank or financial institution's environment.
Banks and financial institutions can leverage Signzy's technology to extend banking services such as general inquiry, car loans, house loans, education loans, net banking, commercial banking, opening saving accounts, stock exchange investment, insurance, risk management, and a variety of other services in the metaverse. Hence, they can deploy the technology across existing and metaverse financial products that the banks might develop in the future.
The company's solution brings advanced scalability protocols that will allow many simultaneous users to traverse inside virtual reality and augmented reality archetypes of one or more financial institutions. Furthermore, it will support metaverse currencies and financial instruments such as cryptocurrencies with security and scalability. This breakthrough innovation for banking in the metaverse has been granted patent number 11270509 by the United States Patent and Trademark Office. The application for the same was filed in 2020 by the co-founders of Signzy and their co-investors and colleagues.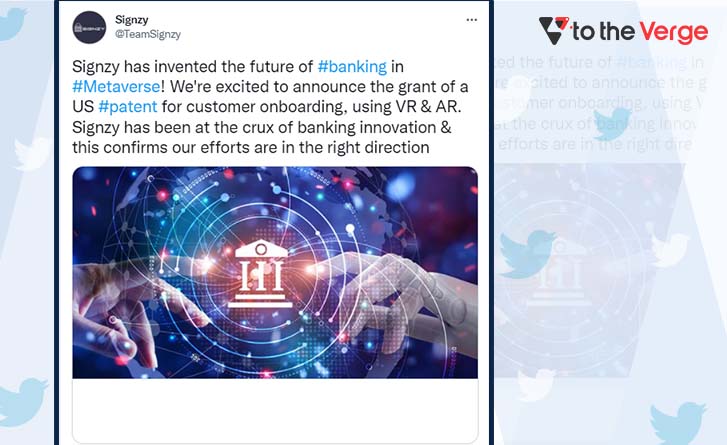 Ankit Ratan, one of the co-founders of Signzy, said, "Banks and FIs can no longer ignore the expanding world of Metaverse and the impact it will have on their business in the near future. The metaverse offers a huge growth opportunity to attract young customers and may even pave the way to creating new product lines and eventually adding newer business models. The grant of this patent by the USPTO marks an important milestone towards enabling this vision."
Up to this point, Signzy has six AI patents in the USA and five in India. The software company is headquartered in Bengaluru, Karnataka. It works with over 240 financial institutions globally, including ICICI Bank, SBI, and Aditya Birla Financial Services, some of the largest banks in India.
Author: To The Verge Team
Our aim is to chase the future, innovations, and the latest trends of all things tech. We love to interact with industry experts, understand their diverse and unique perspectives, and spread their ideas.