You can implement the different solutions mentioned in this article to get rid of the Overwatch 2 not launching Windows 10/11 error within minutes.
Since a long time ago, Blizzard Entertainment has been known for making PC video games. Overwatch 2 is their latest shooting game, and it has become very popular among gamers who like to play online multiplayer games. It's a successor of Overwatch with new PvE and PvP modes for multiplayer play. Even though it is so popular on PC, some gamers still have trouble with it, like when Overwatch 2 not launching on PC.
Usually, issues like these go away but for that, you have to wait for an indefinite time. Hence, it's better to take some action rather than wait for the new updated patch. Today with the help of this article, we are going to show you some of the most effective and efficient ways that you implement to fix Overwatch 2 not launching Windows 10/11. So without wasting any more time, let's jump right into it.
Different Techniques To Solve Overwatch 2 Not Launching On Windows PC
Try out the different methods mentioned in this blog post to solve the launching issue with your Overwatch 2 game. You don't have to try each and every method, just try them out in the same order they are given. And if you want quick results, check out 'Solution3'.
Solution1: Check The Overwatch 2 Game's System Requirements
Before jumping on to the troubleshooting methods, you first need to check whether your computer is meeting the recommended system requirements to run the game smoothly. Below we have shared both the minimum and recommended requirements so take a look at them.
Minimum System Requirements For Overwatch 2
Display Resolution: 1024 X 768 pixels
Hard Driver: 50GB
RAM: 6GB
Graphics Card: NVIDIA GeForce GTX 600 series (1GB) / AMD Radeon HD 7000 Series (1GB)
Processor: Intel Core i3 / AMD Phenom X3 8650
Operating System: Windows 10 64-Bit
Recommended System Requirements For Overwatch 2
Display Resolution: 1024 X 768 pixels
Hard Driver: 50GB
RAM: 8GB or more
Graphics Card: NVIDIA GeForce GTX 1060 or 1650 (2GB) / AMD R9 308 or AMD RX 6400 (2GB)
Processor: Intel Core i7 or AMD Ryzen 5 series
Operating System: Windows 10/11 64-Bit
If your Windows device is meeting the recommended system requirements and still you are facing the Overwatch 2 not launching or opening issue, then it's time to try out some troubleshooting approaches.
---
Solution2: Disable Unnecessary Processes Using Task Manager
Every computer can multitask but at the same time, every computer has its own capacity. Hence, if you have too many programs running at once, games like Overwatch 2 won't launch. So, you need to stop any unneeded processes or tasks that are running in the background. Below are some steps that will help you use the Task Manager tool to do so.
Step1: Open the taskbar's context menu by right-clicking on it. And then select the Task Manager option from the list.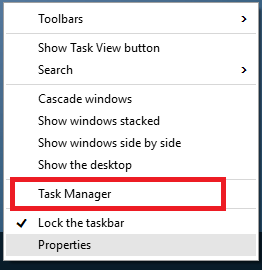 Step2: Go to the Processes section, and look for the CPU and Memory section to check which program is consuming the most resources.
Step3: Select the processes that are unnecessary and are using your computer resources. Then, right-click on them and select the End task to close the background task.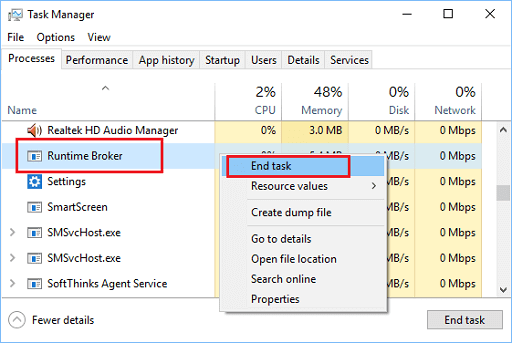 Step4: Now, start the game again and see if you are still facing the same Overwatch 2 not launching error on your Windows device. If you're, then try updating the Graphics drivers.
Also know: [FIXED] Adobe Premiere Pro Keeps Crashing in Windows 10
---
Solution3: Update Graphics Drivers Automatically
From Overwatch 2 not launching to Blue Screen of Death, almost all issues exist because of outdated Windows drivers. Therefore, getting the most recent version of the display driver is considered the best way to fix the problem you're having. There are majorly three ways to update your Windows drivers. The first one is by using the Device Manager tool, the second one is by getting it from the manufacturer's website, and the last one is to use the best driver updater tool like the Bit Driver Updater app.
Using a driver updater program is the best option because it will update your drivers automatically and is easier as well as quicker than doing it manually. You can use the Bit Driver Updater software to get the updated drivers within seconds. Moreover, it also offers many other functionalities and features, like scan scheduling, enhancing the driver download speed, driver backup to roll them back, etc.
Steps to fix Overwatch 2 not launching Windows 11/10 issue via Bit Driver Updater:
Below are some steps that will help you solve the Overwatch 2 not launching PC error by using this application:
Step1: Download and install the Bit Driver Updater from the link below. Then launch it.

Step2: Scan for Updates
Step3: Wait for some time and then click on Update All.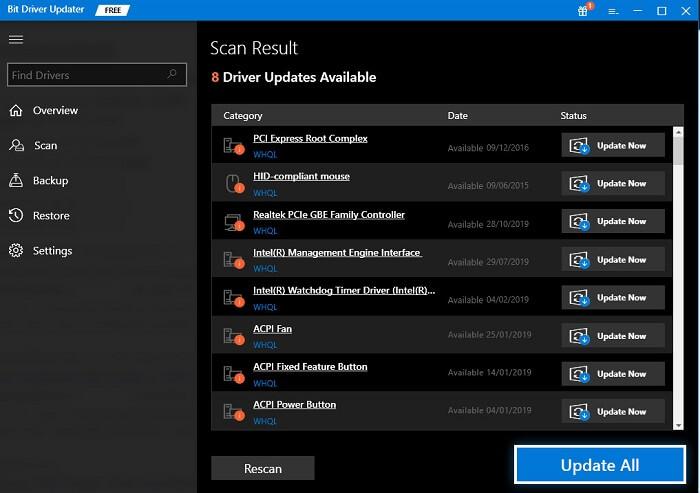 Now, the app will automatically update all your Windows drivers within seconds. Then, check if this fixes the launching issue with your Overwatch 2 game. If it doesn't, then try reinstalling the drivers.
---
Solution4: Reinstall The Graphics Driver Using Device Manager
Broken or corrupted graphics or display driver is other common reason behind errors like Overwatch 2 not launching on PC. To overcome this problem, you can use the Device Manager utility to reinstall your drivers manually. Follow the instructions shared below in order to do so.
Step1: Search the Control Panel utility in the Start menu's search box.

Step2: Choose the Large icons option from the 'View by' context list.
Step3: Open the Device Manager tool by clicking on it.


Step4: A new Device Manager window will open showing all the drivers present on your device.
Step5: Expand the Display adapter section by clicking on the arrow icon next to it.
Step6: Double-click on the graphics card you are using and it will open the Properties window.
Step7: On the Properties window, go to the Drivers tab.
Step8: Select the Uninstall device option present there. And then, click on the Uninstall button present in the dialog box to confirm your actions.
Step9: Wait for some time till your system removes the driver. Then, restart your computer and it will reinstall the latest display drivers.
After reinstalling the display driver, check to see if the Overwatch 2 not launching PC error is resolved. If not, try to update your Windows operating system.
---
Solution5: Update Your Windows OS
When Windows OS is out-of-date, it often causes annoying problems like the Overwatch 2 not opening on Windows. On the other hand, if your operating system is up to date, your computer will work smoothly. Hence, you should try to update your operating system by going through the steps below.
Step1: Use the shortcut command by pressing the Windows + I keys to open the Settings window.
Step2: Select the Update & Security settings from the given options.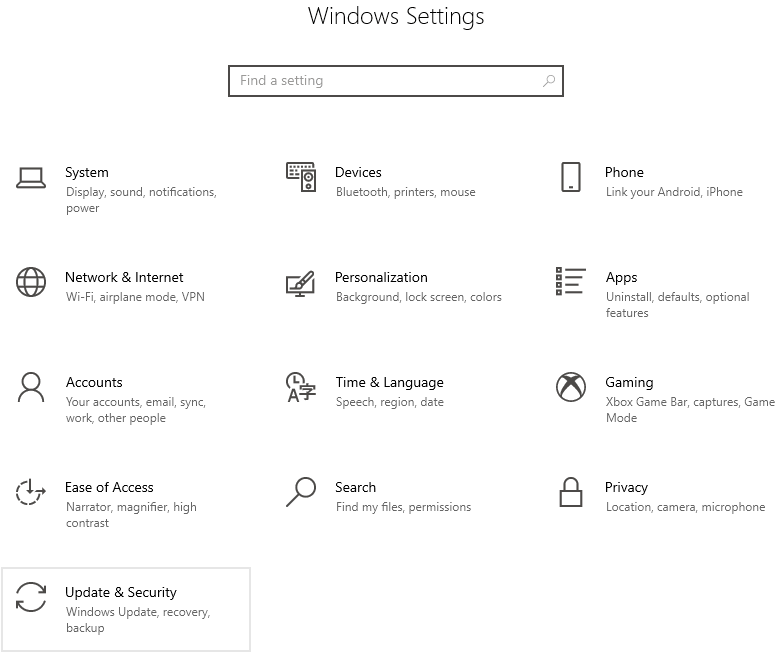 Step3: Choose the Windows Update tab from the left side and then click on the Check for updates button.
Step4: Click on the Download and install option to get the latest OS update for your computer.


Step5: After that, restart your Windows device to implement the new OS version. Once you are done updating your computer's OS, your Overwatch 2 not launching issue will be resolved.
---
Resolved: How To Fix Overwatch 2 Not Launching Error On Windows 10/11 PC
Through this article, we discussed how to fix the issues if Overwatch 2 is not launching on your computer. However, if the issue still persists, then you need to reinstall the game or contact Blizzard Entertainment Support for some technical assistance. Additionally, drop a comment below, sharing your thoughts regarding this blog post.
Author: Snehil Masih
Snehil Masih is a professional technical writer. He is passionate about new & emerging technology and he keeps abreast with the latest technology trends. When not writing, Snehil is likely to be found listening to music, painting, traveling, or simply excavating into his favourite cuisines.