The UK government said in 2021 that stablecoins have the potential to become a mainstream method of payment that will increase customer efficiency and choice.
The United Kingdom published a thorough strategy on April 4, 2022, to harness the potential of cryptocurrency holdings and blockchain technology to simplify the payment process for customers. The UK Government plans to regulate stablecoin for their usage as a valid means of payment. For Stablecoins to be used as a legitimate form of payment is part of a bigger goal to make the United Kingdom a worldwide center for crypto-asset innovation and investment.
"Britain will introduce laws to bring some stablecoins into the legal framework, such as conforming with existing payment standards," stated financial services minister John Glen. In addition, John Glen announced that the United Kingdom will investigate the revolutionary potential of Distributed Ledger Technology in its financial system. Data may be synced and shared in a decentralized fashion, possibly leading to enhanced productivity, transparency, and resilience.
Stablecoins are cryptocurrencies that are intended to have a steady value in relation to traditional currencies or commodities such as gold, eliminating the volatility that renders Bitcoin and other virtual currencies unsuitable for most transactions. Stablecoins are used as a safe haven by cryptocurrency day traders who convert unstable tokens to dollars since market swings make them risky to retain. Stablecoins, as opposed to Cryptos such as Ethereum and Bitcoin, are cryptocurrencies that have no volatility. All stablecoins that reference a fiat currency, according to the government, should be regulated.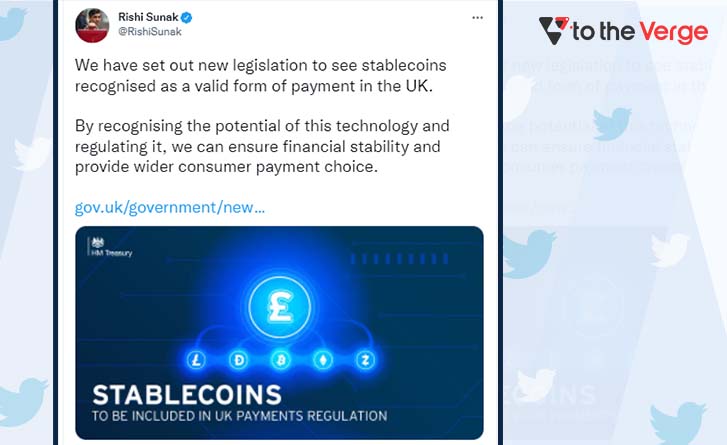 Rishi Sunak, Chancellor of the Exchequer, directed the Royal Mint to create an NFT for distribution this summer. "It's my ambition to make the UK a global hub for crypto-asset technology, and the measures we've outlined today will help to ensure firms can invest, innovate and scale up in this country. We want to see the businesses of tomorrow – and the jobs they create – here in the UK, and by regulating effectively we can give them the confidence they need to think and invest long-term", said Rishi Sunak.
Sunak added, "This is part of our plan to keep the UK financial services industry at the forefront of technology and innovation.
Author: To The Verge Team
Our aim is to chase the future, innovations, and the latest trends of all things tech. We love to interact with industry experts, understand their diverse and unique perspectives, and spread their ideas.