London-based sports NFT company, SportsIcon is set to launch its sports metaverse today, on Thursday, 24 March. The objective is to bring together the world's best athletes, brands, and clubs together in one place, celebrating the passion for sports. Users would be able to trade NFTs, visit stadiums, buy and develop land in The Sports Metaverse. The platform has been co-created by SportsIcon and some industry veterans from big brands such as Sony, Doom, Playstation Home, and Nividia.
The NFTs in this metaverse would include masterclasses by iconic sportspeople, which would entail exclusive insights into the secrets of their training success and experiences. In addition, the NFTs would also have interviews with eminent sports personalities elucidating their lives, their journey towards their career in sports, and videos of them on the practice field.
Romelu Lukaku, a Belgian footballer currently playing for the Chelsea football club in the English Premier League, will be part of the initiative. Reportedly, he was volumetrically recorded and would appear in the 3D sports metaverse. Regarding his participation in SportIcon's metaverse Lukaku said, "In The Sports Metaverse, I'm going to coach you on how I take a penalty – one of the hardest moments in my job." He added, "It's not just about performing physically. It's about concentration and performing mentally. There's a lot of pressure, and you only have one chance. I want you to know what it feels like to be in a 1-on-1 training session with me – to be a professional football player." 
SportsIcon's CEO and Co-Founder Chris Worsey expressed his views on the brand's new venture. He said, "The Sports Metaverse is the next evolution in the fan and sports relationship. There has been a tectonic change in consumer behavior accelerated by Covid and Web3. We want to take the fan to the heart of sport, allowing them to interact with their favorite sports stars and brands, buy land next to them and connect with them in entirely new ways."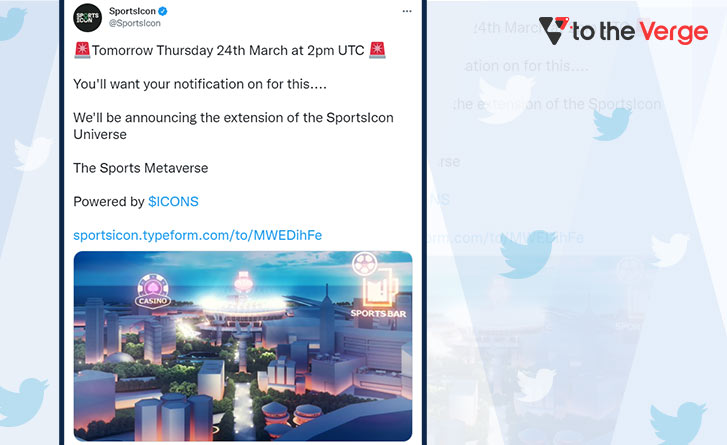 Before the metaverse initiative, SportsIcon collaborated with athletes to curate inspirational immersive NFT videos and arts. The company's goal is to assist the expression of athletes, creatively sharing the moments of their life and career that made the Icons in the world of sports. Additionally, the NFTs would empower the fans to be closer to their heroes by owning moments from an Iconic career journey. SportsIcon also has its utility token, $ICON, with the help of which it aims to create a wonderful community of sportspersons and sports fans.
SportsIcon is backed by some leading contributors in entertainment, sports, and technology, such as the rapper turned investor NAS, YouTube founder Chad Hurley, ARGO Blockchain founder Mike Edwards, and ex-NBA Champion Andrew Bogut.
Besides Romelu Lukaku, The Sports Metaverse has plans to collaborate with other sports stars in soccer, tennis, mixed martial arts, basketball, baseball. In addition, talks are underway on projects with some brands as well. A representative from the SportsIcon team said, "A public land sale for the Sports Metaverse will take place in June when the metaverse officially opens. Every person who buys land will get an interactive fan cave where they can display their NFTs."
Author: To The Verge Team
Our aim is to chase the future, innovations, and the latest trends of all things tech. We love to interact with industry experts, understand their diverse and unique perspectives, and spread their ideas.