The most recent corporation to expand into the metaverse and offer branded non-fungible tokens is Austrian energy drink giant Red Bull. They filed a trademark application on 3rd March 2022, indicating that the firm is looking to enter metaverse with virtual drinks, clothing, and more.
On Tuesday, 8th March, Michael Kondoudis, a licensed metaverse trademark attorney, announced that the company plans to offer multimedia with NFTs, a range of financial exchange services in the virtual environment, and virtual goods such as clothing and sports gear, beverages, and cryptocurrencies.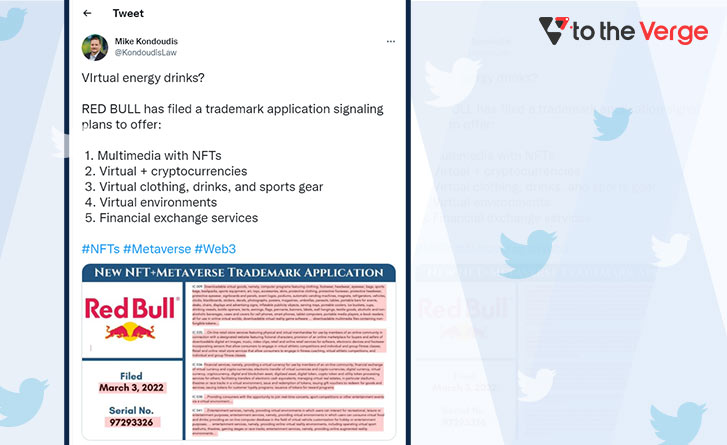 In addition, the company also plans on providing users the opportunity to attend live concerts, sports competitions, or other entertainment events.
The trademarks were registered with the United States Patent and Trademark Office (USPTO) under the registration number 97293326.
It is worth pointing out that organizations, businesses, and celebrities have increased their presence in the Metaverse. This is the most recent example of this rapidly growing trend.
According to Finbold, an American Global oil giant, Chevron, registered a new metaverse-related trademark for its name and emblem on March 7.
Previously, Kondoudis noted that the companies outside of the IT industry are progressively preparing for the transition to a virtual market by developing a proactive, forward-thinking approach and establishing the groundwork for such change.
He said, "The Metaverse is real, and businesses need to plan accordingly. Businesses no longer need to wonder if it is going to happen. It is just a matter of when."
Apart from the lingerie brands, Victoria's Secret, fast-food chain McDonald's, energy drink manufacturer Monster Energy and retailing juggernaut Walmart have all entered the NFT bandwagon. The New York Stock Exchange (NYSE) also couldn't resist the attraction of the space.
In the United States, the number of NFT trademark applications increased by 421 percent in 2021, a significant rise compared to just three in 2020.
Author: To The Verge Team
Our aim is to chase the future, innovations, and the latest trends of all things tech. We love to interact with industry experts, understand their diverse and unique perspectives, and spread their ideas.