As the excitement around NFTs and the Metaverse continue to drive institutional adoption, another sporting group plans to enter the Metaverse. Popular French football giant Paris Saint-Germain (PSG) joins a list of traditional entities looking into the Metaverse. PSG has filed a trademark application to enter the Metaverse.
Over the last 12 months, the digital asset market has expanded significantly, with cross-industry expansion. One of the critical focuses of the crypto-currency market's ascent over the past year has been a growing collaboration between crypto-currency exchanges, NFTs, and sports. Mainly, soccer club Paris Saint-Germain lately made a significant venture into the metaverse realm, excavating the crypto market and sports fusion.
Michael Kondoudis, a metaverse trademark attorney, announced the filing details on 21st March. According to the lawyer's Tweet, the trademark application was filed on 16th March. The trademark will cover crypto-currency wallets, NFT-backed multimedia, sports equipment, crypto-currency transaction management, virtual wearables, and gadgets as per the released material.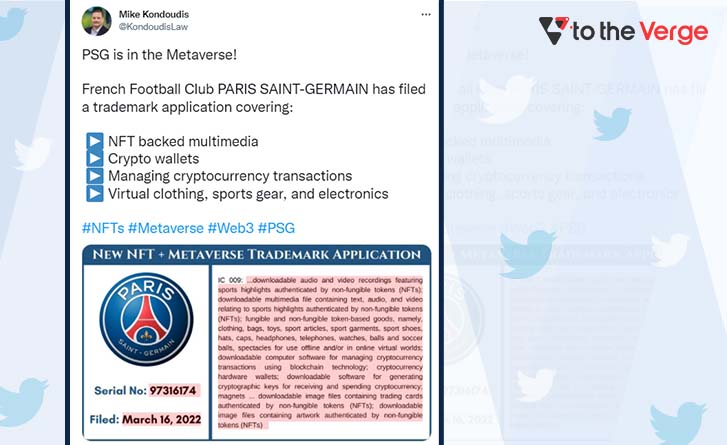 In a joint press release, The Washington, DC-based lawyer stated, "Paris Saint-Germain is one of the most recognized soccer clubs globally, and the name and brand of the team have significant value. This filing is the correct next step in safeguarding the brand as it grows into the Metaverse."
He added that this filing "follows the trend by other specialized sports brands to start preparations to contribute in the Metaverse." Football idols such as Lionel Messi, Kylian Mbappe, and Neymar are part of PSG. Neymar has made headlines for his broad collection of NFTs and recently showed off his Bored Ape NFT on Twitter.
Other prominent football clubs that have issued NFTs include Rangers, Juventus, and Manchester City. Earlier this month, FC Barcelona announced that it would be launching its own cryptocurrency and NFTs.
There has been a substantial rise in interest in the Metaverse last year. The virtual world has attracted major music, fashion industry, and sports actors. For example, in February, FXEmpire said that Manchester City, an English soccer club, had created the world's first soccer stadium in the Metaverse.
In January, news of the Australian Open and Decentraland's first-ever tennis event (MANA) was announced.
On Decentraland, the Australian Open was re-formed in Melbourne Park, providing tennis lovers a taste of Melbourne tennis. "PSG sees the potential of the metaverse and is making its brand for the virtual economy that will rule it," Mr. Kondoudis continued.
Author: To The Verge Team
Our aim is to chase the future, innovations, and the latest trends of all things tech. We love to interact with industry experts, understand their diverse and unique perspectives, and spread their ideas.