Gucci has the latest metaverse collaboration with 10KTF. An NFT project consists of a floating virtual world known as "New Tokyo" fashion accessories for NFT owners to purchase with profile photos, and a fictional character called Wagmi-San, a play on the Web 3.0 phrase "wagmi"(we're all going to make it).
According to Vogue Business, Gucci has acknowledged the agreement with 10KTF via its experimental spin-off brand Gucci Vault on Twitter and Discord, where it has a Gucci Vault account.
The Gucci Grail NFTs will be minted on the Ethereum blockchain and disclosed on 23 March. Besides a "unique and personalized NFT envisaged by Alessandro Michele – Gucci's creative director and carefully designed by Wagmi-san," fans have no idea what the final reward will be. Digital accessories like footwear and handbags are already permissible under the 10KTF. However, many fans anticipate a Gucci NFT garment, which would be the brand's first.
"In persistent pursuit of precious wonders, Alessandro Michele takes a trip from Rome to New Tokyo where he meets with legendary digital artisan Wagmi-san from the @10KTF store," Gucci tweeted in a tweet on Wednesday.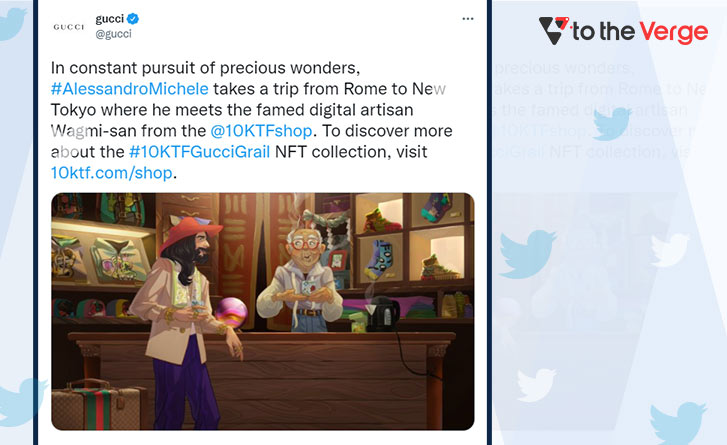 10KTF is a narrative experience that inspires early participation and adoption through a metaverse treasure hunt. Artist Mike Winkelmann co-founded Wenew, better known as "Beeple," who sold an NFT for $69 million at Christie's a year ago. Wenew earlier collaborated with Louis Vuitton on its NFT project in August 2021, which provided participants in Louis the Game, an independent game developed to commemorate the house's 200th anniversary, access to free NFT postcards as a reward.
Accessing the NFT is a lesson in creating luxury-level exclusivity and expectancy in the metaverse. Gucci and 10KTF have shared a complex list of requirements on an informative FAQ page. First, people need to register for an "allow list" to be eligible for one of 5,000 "mint passes." Some passes will be reserved for friends of Gucci and 10KTF. Or else, to redeem a mint pass, people need to own an NFT from one range of included previous NFT projects and pay 1 ETH, or about $2,700.
Allow list access is granted to those who have shown community contribution, including members of the Gucci Discord community who have achieved the title of "Explorer" based on engagement or those who own a 10KTF NFT from a supported project. Supported projects read like a "who's who" of popular PFP collections, including Cool Cats, Bored Ape Yacht Club, World of Women, and Forgotten Runes Wizards Cult (excluding Forgotten Souls).
Asset drops are offered to those with specific NFTs, and access is limited to those with certain NFTs. In addition, clues and details about the 10KTF are released in dribs and drabs through social channels.
Author: To The Verge Team
Our aim is to chase the future, innovations, and the latest trends of all things tech. We love to interact with industry experts, understand their diverse and unique perspectives, and spread their ideas.