On April 6, sports broadcasting giant ESPN announced the launch of Tom Brady NFTs in collaboration with the quarterback's own NFT business.
In collaboration with Brady's firm Autograph, ESPN unveiled its first-ever NFT collection. In 2021, the quarterback co-founded Autograph, a sports and entertainment NFT firm.
The sports media giant's first NFT release will be inspired by Brady and ESPN's documentary series 'Man in the Arena: Tom Brady.' The collection includes three magazine covers from ESPN's special edition December issue, which featured 14 pieces about Tom Brady.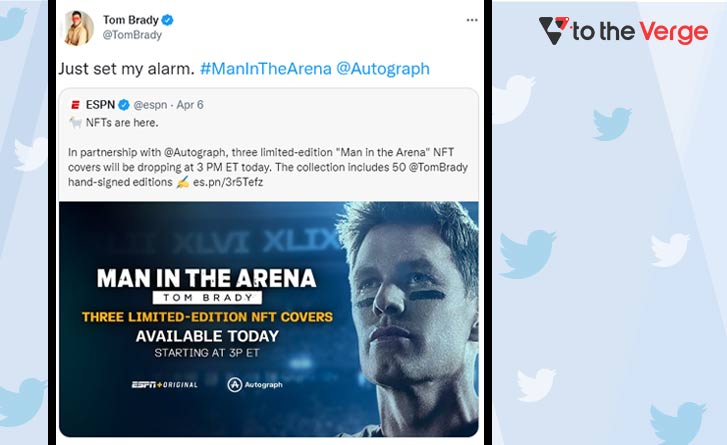 Brady will autograph fifty NFT cover editions. Following the release of the docuseries, a second NFT compilation titled "Back in the Arena" will be released once the tenth and final episode airs. All of the NFTs are created using Polygon, an Ethereum sidechain scaling solution.
Tom Brady is already well-known in the world of NFT memorabilia, and now he is teaming up with sports media behemoth ESPN.
The "Man in the Arena" series focuses on Brady and the many highlights of his stellar NFL career.
Tom Brady, 45, declared his farewell from the NFL in February before abruptly changing his mind and announcing his return to Tampa Bay for his 23rd season. Brady has long been preoccupied with commercial efforts off the field, including the introduction of his own TB12 sports brand, among others.
ESPN's partnership with Autograph is a multi-year agreement. Dillon Rosenblatt, co-founder and CEO of Autograph, said of the arrangement, "As ESPN's first NFT partner, the opportunities across sports and technologies are boundless, and we couldn't be more eager to bring this material out to the world in a large way."
"This unique collection around Tom's 'Man in the Arena' docuseries marks the beginning of our relationship with ESPN. As the first NFT partner for ESPN, the possibilities across sports and technology are endless, and we couldn't be more excited to get this content out to the world in a massive way." added Dillon Rosenblatt, co-founder and CEO at Autograph.
Sports and cryptocurrency collaborations are more widespread than ever. Prior to ESPN Sports Illustrated, ESPN collaborated with NFT startup OneOf to create NFTs based on iconic magazine covers. SLAM, a basketball magazine, has debuted NFTs via Autograph.
Author: To The Verge Team
Our aim is to chase the future, innovations, and the latest trends of all things tech. We love to interact with industry experts, understand their diverse and unique perspectives, and spread their ideas.