The Metaverse has attracted the attention of a rising number of organizations in recent months, with credit card services company American Express being the most recent to hop on board. AMEX, MEMBERSHIP REWARDS, and SHOP SMALL are among the seven trademark applications submitted by American Express, indicating that the company is considering expanding into the Metaverse and selling non-fungible tokens (NFTs).
On Tuesday, 15th March, Metaverse trademark attorney Michael Kondoudis published the news on Twitter, disclosing that applications to the US Patent and Trademark Office were filed on 9th March. The idea is to provide virtual banking, NFT-backed exchange services, and multimedia crypto-currency services. According to a recent study, the number of NFT applications in the United States enhanced by 421 times in 2021, compared to just three in 2020.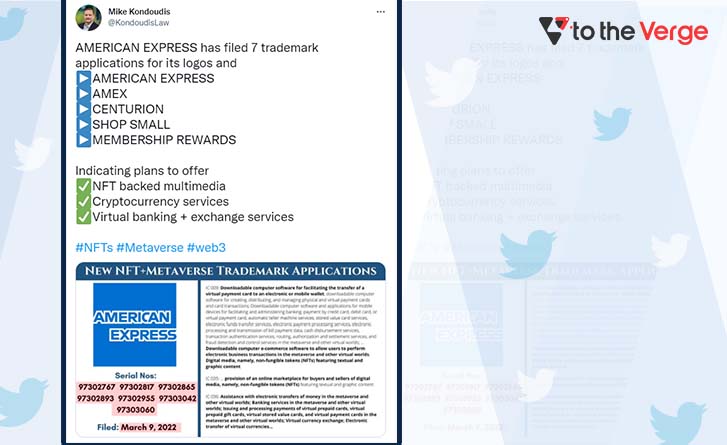 In a news release, Kondoudis said, "American Express is a renowned financial brand with a lot of value associated with it. American Express recognizes the Metaverse's potential and is building its logos and branding for the virtual economy that will come to rule it."
"Perhaps the fascinating part of these applications is that they act to herald the beginning of a new Metaverse trademark registration trend in the financial services industry."
The Metaverse trend is going strong. Corporations, businesses, and celebrities have been growing their existence in the Metaverse for some time, and this is just the latest example of this growing trend. In addition, the Metaverse has grown famous for major financial businesses, with big Wall Street names considering it an opportunity worth trillions of dollars.
Goldman Sachs strategists stated that Metaverse could be an $8 trillion investment opportunity. In addition, JPMorgan said that Metaverse could produce $1 trillion in revenue yearly. The New York Stock Exchange (NYSE), for example, filed a new trademark application on 15th February to register the word "NYSE" for a range of crypto and financial products and services.
Other payment firms have also ventured into the crypto space. For example, Mastercard announced launching cryptocurrency-linked payments cards in the Asia-Pacific region last year. At the same time, Visa said it would set up a crypto advisory group to help its clients use crypto.
"This submission is the most recent sign that the metaverse is real and that companies need to prepare properly," Kondoudis stated at the time.
Author: To The Verge Team
Our aim is to chase the future, innovations, and the latest trends of all things tech. We love to interact with industry experts, understand their diverse and unique perspectives, and spread their ideas.