Why use a physical audio connection if you can use a virtual one instead? Downloading a Virtual Audio Cable can help establish a virtual audio connection. When you install Virtual Audio Cable to transfer audio. There should not be any latency problems when the application is connected to it. You will observe that the output's quality is identical to that of the input. Virtual Audio Cable (VAC) is referred to as audio software that enables the transfer of audio streams between devices and applications.
So, have you ever wanted to separate the audio from your microphone? Or the audio from the game while you were streaming it? This is just one of the many things you can accomplish by downloading VB Audio Software. The method is as follows. By using the application as a "virtual cable," you can send an audio stream to another app. Which is connected through the output end of the stream. This enables you to separate audio sources or combine them into a single output.
Therefore, download the VB Audio Software program if you wish to route audio from one app, like YouTube or an audio/video player, to another application for recording without compromising the quality. So let's proceed to download Virtual Audio Cable. But before that, first, understand What a virtual audio cable is and what you can do with it
What Can VB Audio Cable Download Do?
Virtual Audio Cable is free software that utilizes a virtual interface for emulation. And employs the WDM driver framework to transmit audio signals through Windows. To transfer audio signal streams without sacrificing quality, one must use a virtual audio driver. Since all transmitted signals are digital, there is no issue with signal pollution or attenuation. It is one of the biggest benefits of this virtual interface. It also saves on hardware costs.
A VB audio cable is basically a loopback MIDI (musical instrument digital interface) device that you can use to connect various applications. The Virtual Audio Cable supports connections from more than 250 different programs that enable audio allocation and mixing. You can download VB Audio Cable to connect a wide range of applications, including recorders, sequencers, virtual synthesizers, and sound editors. Additionally, you can manage low sound latency, mixing of signals between output ports, volume adjustment, channel scattering management, and protocol support for notification event management.
In essence, it will enable you to set up a virtual music studio on your personal computer or laptop. The software has a control panel that lists all the connected apps you are using, along with sample rates and channels for each cable connected. One of the best things about VAC is that the connection is so seamless that there will be no sound quality loss during the transfer or interruptions to your streams. So let's move ahead to find out how you can download virtual audio cable for free.
How to Download Virtual Audio Cable on Windows PC?
Now that you have a clear idea of what Virtual Audio Cable is and what you can do with it. If you want to use it, you need to first download VB-Audio Software on your computer. We will give you a brief overview of it in this post, along with instructions on how to download Virtual Audio Cable for Windows.
1. Download VB-Audio CABLE (Virtual audio cable)
Since Virtual Audio Cable is free to download, you can use it for as long as you like without worrying about a trial period or license expiration. In addition to this application, the creators also provide a few other audio-related pieces of software, like a HIFI-CABLE driver. Similar to VB-Cable, this one operates but requires that the input and output sample rates be set to the same. HI-FI Cable is bit-perfect and supports up to a 24-bit, 384 kHz audio stream. It is among the best apps for virtual audio cables. To access the official website, click this link and download Virtual Audio Cable.
---
2. Install a Virtual audio cable
Once you download VB-Audio Software, Unzip the downloaded file. Run the VBCable_Setup_64.exe or VBCable_Setup.exe files. After completing the wizard, restart the computer. After installation, you can choose VB Audio Cable as the source of the audio you would like to utilize.
Also Know: How to Fix the "No Audio Output Device is Installed" Issue in Windows [2023 Guide]
---
Open the folder containing the VBcable files after extracting them, and if you have a 32-bit system, right-click VBCABLE_setup.exe and select Run as administrator. Additionally, if the system is 64-bit, right-click VBCABLE_Setup_64.exe to install with administrative rights. After the installation is complete, restart the system.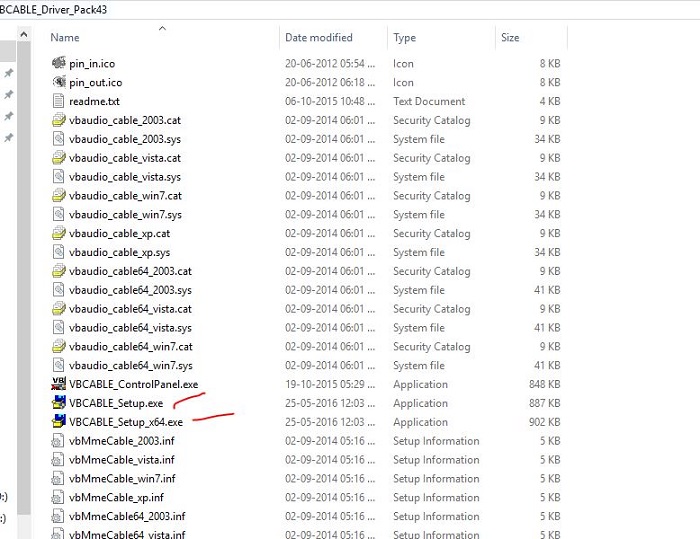 ---
4. Launch The Sound Control Panel.
Enter "sound" in the Windows search box. As an alternative, you can access the Windows Sound settings in Control Panel by going to Hardware and Sound and then selecting Sound. If the CABLE Output is not already turned on, right-click on it under the Recording Tab and turn it on.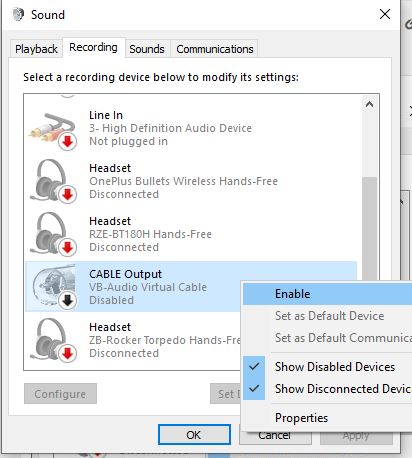 Also Know: Sound Card Driver Download and Update for Windows PC
---
5. Choose the Cable Input As The Playback Device.
The tricky part is that we need to make the virtual audio cable the default device for both input and playback of music. Choose "Set as Default Device" from the context menu by right-clicking on the Cable Input under the Playback tab.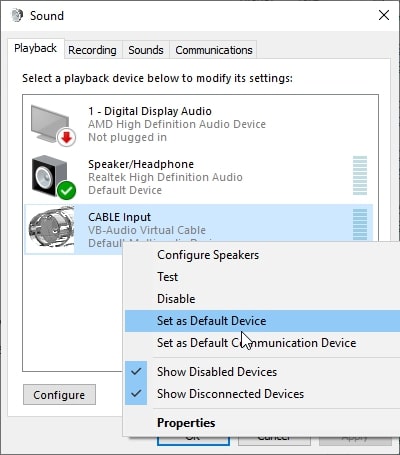 Alternatively, you can just select CABLE INPUT (VB-Audio Virtual Cable) by clicking on the Speaker icon located in the Taskbar of Windows on the right.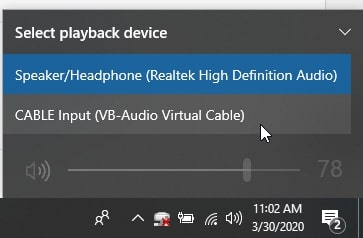 ---
6. Take Audio Recordings Using a Virtual Audio Cable.
Now, for instance, once you download the virtual audio cable, let's say you want to record some audio online and upload it to YouTube. So, what you do is launch the sound recording program first. Windows already has that; simply open it to listen to the song on YouTube. The recording program on Windows will receive the sound or audio for YouTube via the VB-Cable automatically. You can record any voice in this way without compromising quality. It is not just the recording app. Any application that allows audio input will be able to record audio that is being played on a Windows system and is routed through a virtual audio cable.
Also Know: How To Fix Realtek Audio Issues in Windows PC
---
Successfully Downloaded Virtual Audio Cable
Virtual Audio Cable is a program that allows you to set up multiple virtual audio playback or recording tools. As a result, there will be no audio quality loss when you pair them with another application. Overall, the virtual audio cable is an excellent program if you have the technical skills to comprehend the language it utilizes.
When you understand how to utilize it, the app develops into an effective tool capable of providing outstanding results. However, we sincerely hope that by utilizing the procedure, you are now aware of how to download a virtual audio cable and use it for music playback. VAC provides a fantastic way to listen to music while sharing content with the audience.
Author: Snehil Masih
Snehil Masih is a professional technical writer. He is passionate about new & emerging technology and he keeps abreast with the latest technology trends. When not writing, Snehil is likely to be found listening to music, painting, traveling, or simply excavating into his favourite cuisines.