Does it take forever for web pages to load on your cluttered Mac? Do you have unknown applications clogging up your startup disk? Then it's time to get serious about Mac cleaning. Start using the best Mac cleaner that suits your needs right away because small amounts of dust today turn into a mountain of filth tomorrow.
It's expected that the programs you have installed on your Mac will leave some form of clutter behind after extended use. This includes downloaded data, caches, logs, and junk files. All of these, if not properly cleaned out, can eat up critical storage space and even interfere with certain functionality. We are all aware of how difficult it is to maintain a Mac, yet using the correct free Mac cleaning software can make the job easier.
The best free Mac cleaner can quickly resolve any issues with manual cleaning and keep your computer up to date in case there are any new updates available. The 7 best Mac cleaning software programs are listed in this article for your convenience. Look through them all to find the one that most closely matches your needs.
7 Best Mac Cleaner and Optimizer Software in 2023
There are many different types of Mac cleaning solutions, from straightforward programs designed to remove clutter and bloatware to sophisticated programs that take care of duplication and registry cleanup. Your particular needs will determine the Mac optimizer program you use. Let's examine some of the best Mac cleaners and optimization programs.
1. CleanMyMac X
If you're looking for the best Mac cleaner, it's unlikely that you'll come across anything better than CleanMyMac X from MacPaw. This feature-rich tool makes it possible to remove clutter from every area of your macOS with just one click, thanks to its sleek user interface as well as a variety of practical cleaning capabilities.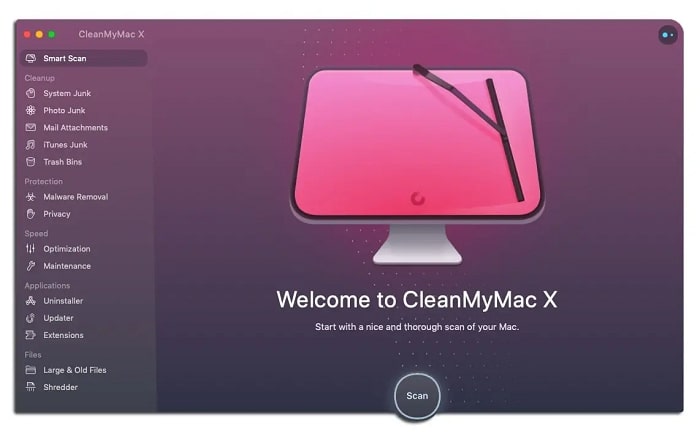 The Smart Scan tool in CleanMyMac X completely scans your Mac machine to find any junk files (such as user cache files and system logs) as well as where they are located. It optimizes RAM use in addition to scanning your machine for infections. Additionally, the app features a badge of Apple notarization. It signifies that Apple examined the software and found that it was free of any dangerous code. So, when using CleanMyMac X, you should not worry about the security of your machine.
Despite all of these advantages and features, this software has several flaws. The first problem is that the program is not free; in order to fully benefit, you must purchase a lifetime license or an annual subscription. You can only remove roughly 500MB of junk files from the machine using the free version.
Simple interface.
Mac multitasking software.
Gives your Mac a speed boost.
It offers protection from malware.
Multilingual assistance.
No free version is available.
You are only able to clean out junk up to 500 MB with the trial version.
Compatible only with the most recent iterations of macOS.
Comparatively more expensive than other Mac optimizers.
Also know: Best RAM Cleaner, Optimizer, and Booster
---
2. CCleaner
CCleaner is a renowned multi-purpose Mac optimizer tool that works on Windows, macOS, and Android devices. In order to assist you in clearing up space on your Mac computer, it recognizes undesirable and junk files and removes them. By easing the strain on the RAM, it also improves the functionality of your Mac. It accomplishes this by getting rid of any background and startup programs that are already running on your computer.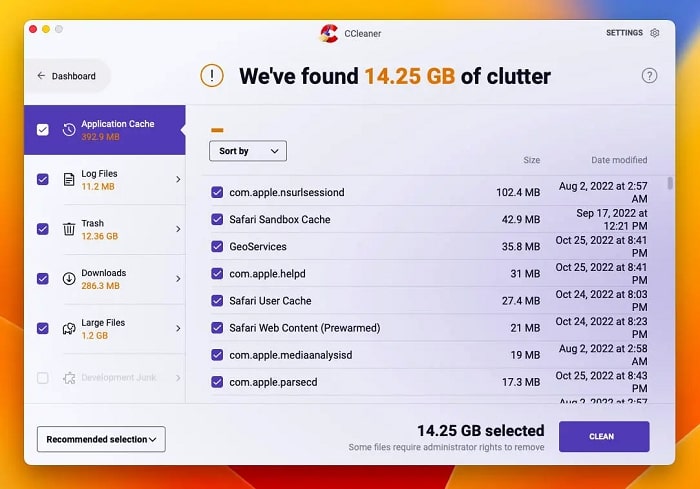 It also aids in the removal of software that is obsolete or not in use. Using this Mac cleanup app has certain drawbacks in spite of its advantages. Although the CCleaner app is far more reliable now than it was when it was hacked and infected with a Trojan virus back in 2017, the software is no longer as essential as it once was.
On a positive note, CCleaner provides the majority of its functions for free. The professional edition is actually only required if you require background monitoring and automatic upgrades. It is among the most effective Mac optimizers on our list and offers the majority of its functionality for free, making it one of the best free Mac cleaners.
Single-click cleaning capability.
Provides real-time junk file inspection.
Highly adaptable.
Offers a more secure online browsing experience.
Provides an application manager as well.
Receives automatic updates.
Only Safari, Chrome, and Firefox support internet security features.
There is no security feature for the system.
significantly fewer features than competing options.
Only privacy protection and faster computer features are available in the free version.
---
3. Drive Genius
Drive Genius is more than just a cleanup tool; it's also a Mac optimizer and monitoring tool. You can use Drive Genius' tools to do diagnostics on the storage drive in your Mac. In addition, the software can safely delete files and scan for dangerous content. The software's ability to find damaged files on your Mac's hard drive is its most significant feature.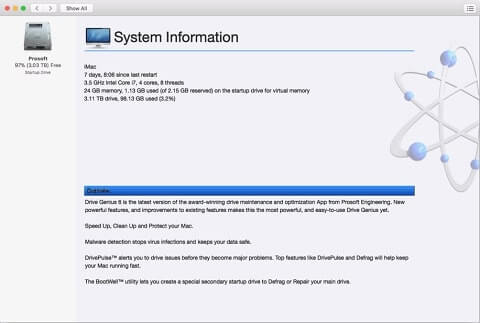 There is a DrivePulse feature in Drive Genius. With this, you can thoroughly scan your hard drive and learn about its condition. For instance, if your hard drive is likely to fail, you will receive a notification. Even if DrivePulse takes a while to finish and there are free apps to scan your Mac for issues, the results are typically worthwhile. You might be able to recover your files and avoid having a dead drive.
Of course, there are certain disadvantages to using this cleaner program. DrivePulse and other capabilities are only partially accessible in the free version of the software. Additionally, while the most recent edition (Drive Genius version 6) is compatible with macOS 10.12 Sierra and beyond, Drive Genius version 5 is not supported with macOS 10.15 Catalina.
Feature-rich.
Outstanding protection against malware.
Safeguards against the loss of crucial data.
Numerous sophisticated features.
Displays all relevant information, including storage, about Mac devices.
There is no free version.
Significantly more expensive than alternate options.
Not for beginners.
The interface is difficult.
Not compatible with earlier macOS versions.
Also know: Duplicate Photo Finders and Cleaner
---
4. Disk Doctor
Disk Doctor assists you with carrying out specific tasks that safeguard and improve the functionality of your system. It corrects potential issues and gives you the chance to adjust hidden preferences. Disk Doctor scans the system for faults and accumulated junk files. It is a straightforward program that efficiently removes unnecessary data from hard drives.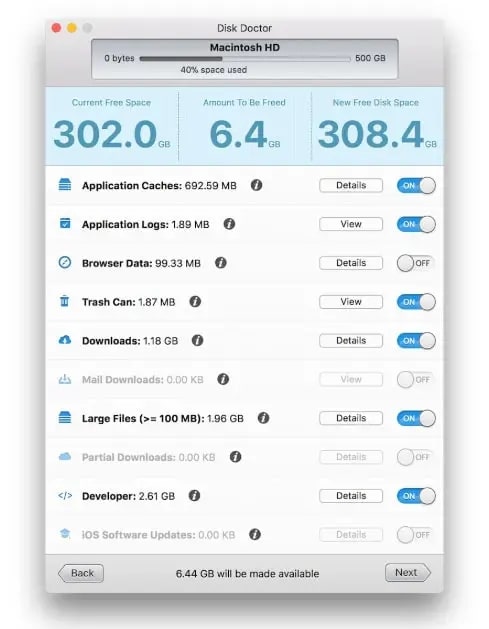 On the user interface, there is a little, attractive window that displays information about the hard drive's capacity as well as the amount of free and used space. You only need to click the scan button; there are no checkboxes or further steps.
The six places that Disk Doctor searches are caches, language files, logs, apps, mail downloads, trash cans, and downloads. Each area's description includes information about the kinds of trash that are likely to be found there. Simply select the items you want to delete and click the "clean my disc" button.
Easily cleans up large files.
Removes the installer packages.
Several themes.
Selecting particular files is not possible.
It is difficult to use.
---
5. MacKeeper
MacKeeper is a comprehensive service designed to enhance the performance and responsiveness of your Mac. The MacKeeper system is ISO 27001 and AV-TEST certified, making it one of the most trustworthy tools available right now.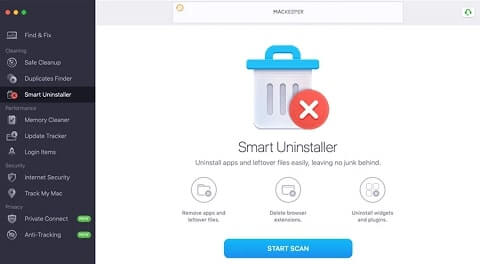 Unlike some Mac Optimizer programs, which focus primarily on deleting outdated files, MacKeeper provides a variety of techniques to increase the efficiency of your Mac. The technology allows you to quickly locate and get rid of clutter while also checking for malware and virus problems. In addition to a number of additional privacy protection technologies, there is an ad-blocker for better browsing.
With its smart uninstaller, VPN private connect system, and "Find and Fix" product, MacKeeper 5 is a time- and money-saving alternative for enhancing Mac performance. These features allow you to quickly check the security, performance, and storage state of your Mac.
Efficient and quick.
offers top-notch support services.
Lightweight program.
may delete crucial files left unattended.
If you do not need all the features, it is not worth the price.
It is difficult to remove or uninstall.
---
6. DaisyDisk
DaisyDisk is undoubtedly one of the best and most exceptional Mac cleaning programs. It aims to resolve the common problem of limited disc space that most consumers of Macs run into at some point or another. The app provides you with a list of all attached storage devices, including network storage, when you first use it. To examine the usage of each storage device, just click the Scan icon next to it.
It is absolutely evident where the biggest files are placed because every folder and file is shown as a visual dynamic map. DaisyDisk's visual interface makes it exceedingly simple to free up disk space without having to shell out money for an additional storage device.
Just keep in mind that the manual cleanup procedure can be quite time-consuming, so do not anticipate immediate results. Take your pick from one of the best free Mac cleaner apps listed in this article if you are looking for a tool that can automatically clean your Mac's storage.
Beautifully crafted scan report and result graphs.
Simple interface.
Incredible rapid scanning.
A single-click interface.
There is no malware prevention tool.
Offers only a free trial.
Does not ask permission before deleting files.
While using the app, you must pay close attention.
Also know: PC Cleaning Software
---
7. Gemini 2
Another best app to clean Macs is Gemini 2. Its primary strength is finding duplicate files and assisting in organizing them. This program can help you free up a large amount of storage space on your Mac by quickly finding, listing, and deleting duplicate files. Regardless of the data format, the duplicate checker searches through all directories and files.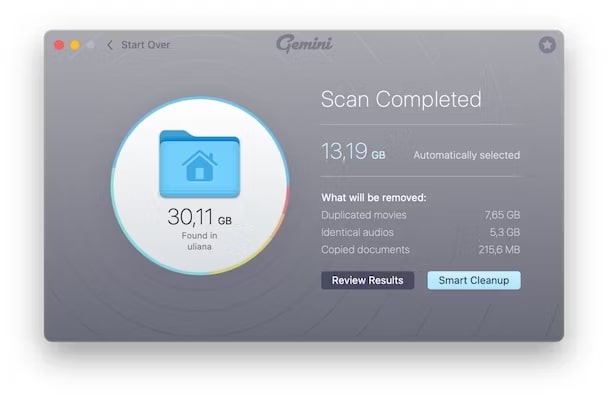 This implies that it will detect duplicate documents, audio, or photographs during the scan. You can decide which duplicates to eliminate and which to keep after viewing the scan results. You can always restore a copy with a single click if you accidentally erase one.
Additionally, you can choose which files and directories to exclude from the duplication scan. Nevertheless, Gemini contains a few drawbacks. It isn't free, unlike many other Mac optimizers of this kind. It includes an "achievement" function as well, although it looks out of place. It attempts to turn the process of deleting duplicate files from your Mac computer into a game, but it is unnecessary and comes out as cheesy.
Simple to use.
Thorough scanning.
Identifies and removes duplicates.
Elegant design.
Expensive.
a higher CPU usage rate.
Confusing for many features.
---
Conclusion
Hopefully, the information in the aforementioned post helped you choose the best free Mac cleaner program. However, the best Mac cleaning software for your needs will depend on what you need.
Please let us know in the comments section below if you have any further questions or concerns. Furthermore, please let us know if you think we overlooked any of the best free Mac cleaners. Additionally, if you enjoyed the article, be sure to follow our blog to receive updates and more insightful tech blogs.
Author: Snehil Masih
Snehil Masih is a professional technical writer. He is passionate about new & emerging technology and he keeps abreast with the latest technology trends. When not writing, Snehil is likely to be found listening to music, painting, traveling, or simply excavating into his favourite cuisines.