This is a -by- downloading guide on how to download and update HP printer driver for Windows 10, 8, 7. Read further to know every bit in detail!
When it comes to deciding which label manufactures the world-class printers then HP would be the most preferred brand for a lot of users. Isn't it so? And, why won't it so when the brand is offering exceptionally high-end printers that eventually leads to the most accurate printing outcomes. But somewhere to continue the good management of the HP printers you need to have an appropriate driver file. That associated driver file lets your printer interact with the Windows operating system properly without any hindrance and ultimately deliver effective printing consequences.
Which is a genuine and compatible driver for your HP printer? Cracking this question is a bit harder task especially for the users who don't have expertise in the technical stream. Don't worry, we can help! Through this write-up, we intend to educate you on how to download HP printer drivers in the handiest way possible.
How to Download, Install, and Update HP Printer Driver for Windows 11, 10, 8, 7
There are mainly two methodologies available to perform the driver update i.e. either manually or automatically. For better as well as quick understanding, we have broken this article into two parts; Part A – Manual Methods and Part B – Automatic Method. So, without further time-jump, let's begin the discussion!
Part A – Manual Methods
To perform HP printer driver download manually you have two methods i.e. either via the official support page of HP or through Device Manager.
Method 1: Download Latest HP Printer Driver via HP's Official Website
If you have apt technical skills then you are eligible to get the latest drivers installed for HP printers from the official source of HP. Below are the s to do that!
1: Go to the official website of HP.
2: Then, hover your mouse on the Support tab. And, choose Software & Drivers from the drop-down menu list.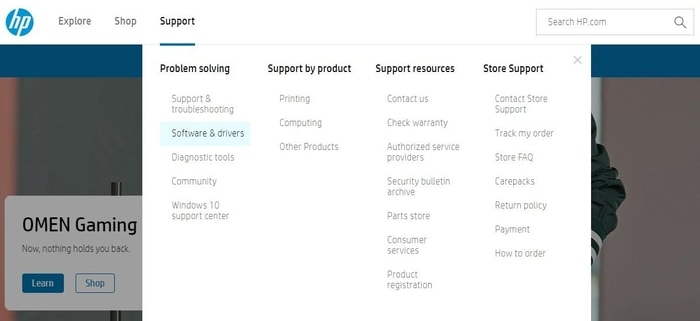 3: To get started, you need to identify your product for which you want to download the latest drivers. Currently, we are discussing the best ways to download HP printer drivers, so, choose Printers respectively.
4: Thereafter, enter the product name of your HP printer and click on the Submit button that appeared next to the search box.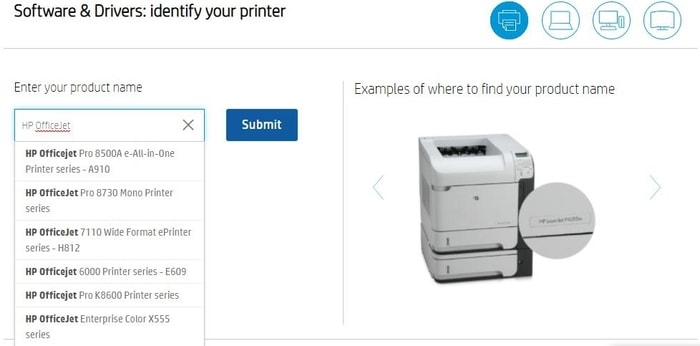 5: Now, detect the compatible operating system and click on the Download button to download the appropriate driver file.
6: Run the downloaded file and finish the onscreen installation to get the drivers installed.
Important: If you are encountering any printer error like printer driver is unavailable then you can fix these errors by performing the driver update for the HP printer.
Read Also: Why My HP Printer is Offline and How to Fix It [Complete Guide] 
---
Method 2: Use Device Manager to Install the HP Printer Driver
Another manual way to install the most recent version of the HP printer driver is using Windows in-built utility called Device Manager. Not only update, but in Device Manager, you can uninstall, rollback, or disable the driver too. But as for now, here are the s to perform driver download for HP printers in Device Manager.
1: Go to the Device Manager by using the keyboard shortcut Windows + X keys.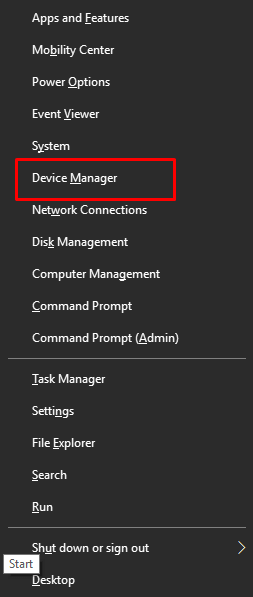 2: Next, in the Device Manager, expand the Printer or Printer queues category by making a double click on the very same category.
3: After this, find the problematic HP printer driver and right-click on it to select Update Driver as an option from the context menu list.
4: In another window, you will see two options, wherein you need to choose a first option that says Search Automatically for Updated Driver Software.
Now, you need to have patience until Windows searches for the latest HP printer drivers as well as installs them too.
---
Part B – Automatic Method
Everyone can't install the genuine drivers manually due to the lack of technical knowledge and even time too. Hence, those can get assistance from the leading driver updater tool that can automatically download drivers without any manual support from users' end.
Automatically Update HP Printer Driver via Bit Driver Updater
Bit Driver Updater is one of the best driver updater utilities that enables automatic and frequent driver updates. This program offers only WHQL tested drivers. Along with it, the tool has a default system optimizer for maximizing the performance pace of the overall PC. Here are the s you need to comply with to update drivers via Bit Driver Updater:
1: Tap on the download button shown below to get Bit Driver Updater for Free.
2: Follow the on-screen instructions to get the tool installed successfully on your machine.
3: Then, trigger the tool on your system, find the Scan button on the left, and click on it to begin the scanning.
4. Once it is finished, then you need to find the HP printer driver from the list of outdated drivers and click on the Update Now button which is manifested next to the driver.
5: Otherwise, you may click on the Update All button to perform the driver update for all the drivers within a click.
That is it! But do keep in mind that you can use the one-click driver update functionality only in the pro version of the Bit Driver Updater. And, it is more worthwhile to rely on the upgraded version of Bit Driver Updater as it gives you unlimited access to all the advanced features of the tool.
Prominent Features of Bit Driver Updater:
It lets you backup the older driver file so you can easily restore the previous drivers when needed.
The program installs only WHQL certified drivers.
It has a comprehensive larger driver database.
It saves a lot of time and manual effort by updating the drivers automatically with just a click of the mouse.
Top of all, it gives you a full money-back guarantee but only within a limited duration.
So, these are some much-needed features that Bit Driver Updater offers at such an affordable value. What are you waiting for, hit the download button shared below to get Bit Driver Updater installed for free on your PC.
---
Download, Install, and Update HP Printer Driver for Windows 10, 8, 7 – DONE
Thus, you can install the most up-to-date drivers for your HP printer. Hope, you found this downloading guide very helpful and informative. Please share your feedback with us and our viewers through the comments box below.
Furthermore, comment down below if you have any suggestions. Lastly, do subscribe to our Newsletter for reading more downloading guides.
Author: Snehil Masih
Snehil Masih is a professional technical writer. He is passionate about new & emerging technology and he keeps abreast with the latest technology trends. When not writing, Snehil is likely to be found listening to music, painting, traveling, or simply excavating into his favourite cuisines.