How To Take Screenshots on HP Laptop Windows 11,10 If this is the first time you use an HP laptop or desktop and you have no idea how to screenshots on HP laptop with Windows 10/11? If that is the case, continue reading this blog to find out more about it.
A screenshot, screen capture, or screengrab—whatever you want to call it—is a representation of the exact information that's shown on the screen of your machine. There are many situations where you might need to know how to screenshot on HP laptop with Windows 10. It is possible that you will need to teach a coworker how to use any specific software that your company uses. You may wish to copy a section of a website, highlight the important part, and post it on your social media. Or perhaps you are unable to export an image because it has become stuck in one of your programs.
Whatever your reason for doing so, there are numerous methods through which you can find out how to take screenshots on HP laptops and desktops. The technique you utilize will depend on what you need to record and how you plan to share it. So, in case you need to capture a screenshot. Here's a quick and simple guide on how to take screenshots on HP laptop with Windows 11/10.
How To Take Screenshot On HP Laptops With Windows 11/10
If you're using an HP laptop or computer and are looking for methods on how to screenshots on HP laptop with Windows 10, this article is for you. Let us begin with some of the straightforward techniques for taking screenshots on HP laptops.
Method – 1: Using Print Screen Key to Take Screenshots on HP Laptop
As HP laptops and desktops come with the Windows operating system, taking screenshots is a breeze. On HP laptops, taking screenshots only requires a few keystrokes. The most straightforward approach to capturing a screenshot on HP laptops is by using the Print Screen key (also referred to as PrtSc or Print Scrn). Here's how to take screenshots on HP laptops with Windows 11/10 using the Print Screen key.
Step 1: Simply press the Print Screen key, represented as PrtSc. It is located at the top of the HP keyboard. The screenshot file will be copied to the clipboard rather than being immediately saved. You must perform the following actions provided below in order to save it as a picture file:
Launch MS Paint or another image editing program.
To paste the screenshot, press CTRL+V.
Save the screenshot file in JPG or PNG format.
So now, once you have saved the screenshot file, you can use it wherever you like as an image.
Step 2: Tapping the Windows + Print Screen key is the simplest way to take a screenshot of your full screen and save it as a file. It will add a new PNG file to your Pictures/Screenshots folder. Your desktop will momentarily become black to indicate that the screenshot was successfully taken. Screenshot (#).png will be the name of each file, with # denoting 1, 2, 3, etc.
Step 3: In most cases, you do not want to take a snapshot of the entire desktop screen. You only need a screenshot of just the program that you are currently using. By pressing Alt + PrtScr, Windows will only capture the currently opened window and copy it to the clipboard.
It's vital to remember that, if the application has many windows, it will only capture the active window and not the full app. This means that, for instance, your program has a pop-up menu that displays in a child window. It will record only the contents of the child window and not the main window behind it.
If you are looking for how do you screenshot on a HP laptop. Then this is one of the simplest and most commonly used methods.
Also know: How to Fix the Print Screen Not Working on Windows 10
---
Method – 2: Take a Screenshot Using the Snipping Tool on HP Laptop
If you are looking for any other method to learn how to screenshots on HP laptop with Windows 10/11. Then you can go for the Snipping Tool. You can use it to capture anything other than the complete screen. You can take a screenshot of the entire screen, a selected area of the screen, or a particular window using the Snipping Tool. There are four different types of capture, specifically window, rectangle, freeform, and full screen. Here is how to screenshot on HP laptop with a Windows default utility tool called Snipping Tool.
Launch the Snipping Tool by pressing Shift + Windows + S on the keyboard to start taking screenshots on Windows 11. Alternatively, you can open it by typing "snipping tool" into the Start menu's search box. Choose one mode after that:
Window Snip: Place the cursor on the window to be captured until it is highlighted, and then perform a left-click to capture it. Always keep in mind that the target window needs to be on the top layer. Otherwise, others will partially block your captured window.
Rectangle Snip: Left-click and drag the mouse cursor toward the desired area, and then release your mouse button.
Full-screen Snip: A screenshot is immediately taken when you click the Full-screen Snip button.
Freeform Snip: Follow the same steps as for Rectangle Snip when using Freeform Snip. You may specify a freeform shape for the capture area in this mode.
The screenshot is then transferred to the clipboard, and a thumbnail of it is displayed on the right-hand side of the screen. To access the editing window, click its thumbnail. You can make changes to the image here. Such as adding lines or underlining text, and then saving it as a JPG, PNG, or GIF file.
Also know: How to Fix Snip and Sketch Not Working in Windows 10
---
Delayed Screenshot of Windows With Snipping Tool.
Sometimes you have to take a screenshot of Windows—not now but after a couple of seconds. So why wait? Since pressing the Print Screen key or a different key combination may cause your menu to disappear before the OS takes a picture. For example, if you're trying to capture a screenshot of accessing a pulldown menu or another option. Therefore, you want to turn on a screenshot that takes place later, so you have time to access that option.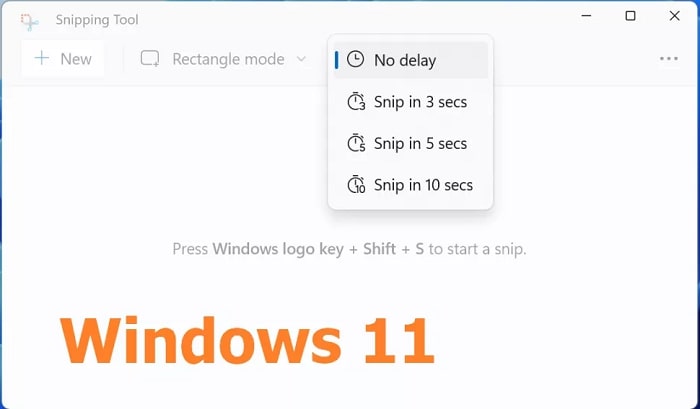 Using the Snipping Tool (Windows 11) or Snip & Sketch (Windows 10) will allow you to take a delayed screenshot in Windows 10 or 11. The snipping tools will then show up, allowing you to draw a box around during that time.
Also know: How To Screenshot On Dell Laptop Windows 11,10
---
Method – 3: Download the Screen Capture Software to Take Screenshots on HP laptop
The aforementioned methods are pre-installed and straightforward to use, however, they are only effective in particular circumstances. A specialized screen-capturing tool is required for advanced editing.
There are several specialized programs for taking screenshots on HP machines. To find out the best screen-capturing tools available on the market. In your web browser, type "Advanced screen-capturing HP Laptop Applications". Download and set up the tool on your device.
You can download and install the applications available in the top results. Choose according to your requirements. If you want some additional features, you can upgrade to the Pro version of the app to enjoy its additional features.
---
Explained: How to Screenshots on HP Laptops with Windows 10/11:
These are a few of the most straightforward and efficient techniques for taking screenshots on HP machines. We advise taking a screenshot with reputable screen-capturing software if you want a professional's opinion. With the help of the dedicated utility program, you can quickly snap high-quality screenshots with particular criteria and orientations. These tools also include a built-in video recording feature. It enables you to record activity on the screen even with the sound turned on.
We truly believe that our in-depth tutorial on how to take screenshots on HP laptop running Windows 11 is going to be the most beneficial for you. Please feel free to leave any additional comments or suggestions in the box provided below.
To stay apprised of all the latest tech developments, subscribe to our email list and connect with us on social media.
Author: Snehil Masih
Snehil Masih is a professional technical writer. He is passionate about new & emerging technology and he keeps abreast with the latest technology trends. When not writing, Snehil is likely to be found listening to music, painting, traveling, or simply excavating into his favourite cuisines.