Read on to know the tried and true fixes to Warzone PC Dev Error 6036/6034. 
Call of Duty Warzone is among the most highly rated and the best battle royale games of all time. However, errors like Dev Error 6036 appear out of nowhere, hampering your gaming experience.
Though the game developers have released patch updates to fix Warzone Dev Error 6036 on PC, the problem remains unresolved for many users. Are you also one of them? If yes, then you should focus all your attention on this write-up.
Through this article, we share some tried and tested solutions you may use to get rid of Warzone Dev Error 6034. However, before discussing the fixes, let us look at the problem's possible causes.
You may fix the issue better if you understand what may have triggered it. Hence, the following section acquaints you with the probable causes of Error 6036.
What Causes Dev Error 6036 on PC
The following may be the factors responsible for causing Dev Error 6036 on the PC Warzone.
Outdated or corrupted files of the game
Corrupted update or patch
GPU is not powerful enough to render some shadows
Outdated graphics driver
Above, we walked you through the factors that may have resulted in Warzone PC Dev Error 6036. Let us now look at the fixes you may use to drive this problem away.
Quick and Easy Fixes to Dev Error 6036
Here are the solutions you may follow to fix Dev Error 6036 on your PC. Also, note that these fixes may even help you get rid of Call of Duty: Modern Warfare Dev Error 6034 on PC.
Fix 1: Make sure the game's system requirements and PC specifications match each other
There should be a match between the system requirements of the game and your computer's specifications for the game to run smoothly. Hence, you should check and take the necessary steps to ensure proper matching between the two. Below we share Warzone's system requirements and the steps to check PC specifications.
Minimum system requirements of Call of Duty: Warzone
OS: Windows 10 64-bit (v.1709 or higher)
CPU: Intel Core i3-4340 or AMD FX-6300.
RAM: 8GB RAM.
HDD: 175 GB HD space.
Video: NVIDIA GeForce GTX 670 / GeForce GTX 1650 or Radeon HD 7950.
DirectX: Requires DirectX 12 compatible system.
Steps to check your computer's specifications
Firstly, use the combination of Windows and I keys on your keypad to launch the Settings screen.
Open the System settings.

Go to the About section by selecting it from the menu at the left.
Now, you may go through the specifications of your computer and take steps to make the required hardware and software changes.
---
Fix 2: Restart the computer
Restarting the device is among the quickest hacks to fix issues like Dev Error 6034 on a PC. Thus, you should try rebooting the device. Here are the steps you may follow to restart the PC.
Right-click the Windows icon on the taskbar's extreme left corner and hover over the option to Shut down or sign out.

Select Restart from the menu that pops up on your screen.
After the computer restarts, check whether Warzone Dev Error on the PC is fixed or not.
Also read: How To Fix Rockstar Games Launcher Not Working on Windows
---
Fix 3: Update your computer's operating system
Having an outdated operating system installed on your computer may also sometimes contribute to the issue you are experiencing. Therefore, you should update the OS to fix Dev Errors 6034 and 6036 on the PC. You may follow the directions given below to do it.
Launch your device's settings (you may use the keyboard's Windows+I shortcut).
Open the Update & Security setting.

Check for updates. 
Complete the process of updating Windows and restart your device.
Once the above process is complete, restart your device and check whether Warzone PC Dev Error 6036 is fixed or not.
---
Fix 4: Update your graphics driver (Recommended)
You may experience various issues like Warzone Dev Error 6034 and 6036 if your graphics card driver is outdated. Moreover, having out-of-date drivers on your device can lead to many other performance issues as well.
Therefore, it is advisable to update the outdated drivers existing on your device. You may update drivers automatically and hassle-freely via a program like a Bit Driver Updater.
The Bit Driver Updater software boasts many advantages, such as one-click automatic driver updates, restoration and backups of drivers, scheduled scanning, and a lot more.
Here is the link through which you can experience this incredible software.

After downloading the software from the above link and installing it, within two to three seconds, you get a list showing all outdated drivers. If you wish, you may pause the automatic scan, and select the "Scan" option to manually find out-of-date drivers on your computer. However, we recommend an automatic scan to save time and effort.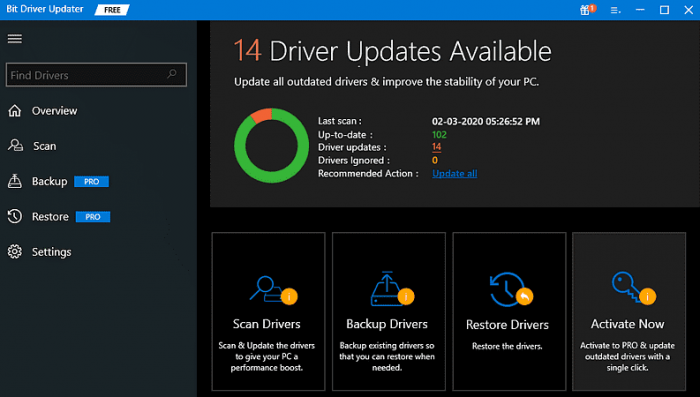 Once the outdated drivers appear on the screen, you can Update All of them with just a click on the designated button to do so.
There is also an Update Now button against the graphics driver that you may use to update the GPU driver singly.
However, updating every outdated driver is always a desirable choice when it comes to ensuring smooth computer performance.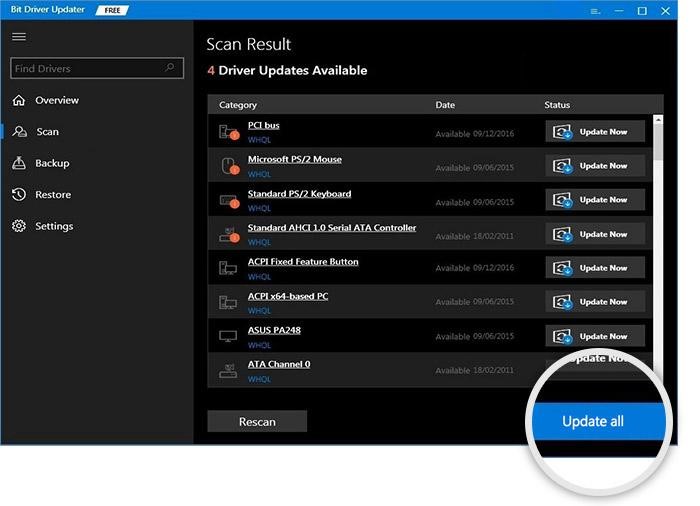 ---
Fix 5: Reinstall the game on an internal storage device (if it applies to you)
Do you have Call of Duty: Modern Warfare/Warzone installed on external storage and use a USB to connect it to the PC? If yes, then you should install the game on an internal storage SSD or HDD to fix the PC Dev Error 6034 or 6036.
---
Fix 6: Try the Scan and Repair feature of Battle.Net
The Scan and Repair option present in the Battle.Net game launcher can fix the corrupted files leading to PC Warzone Dev Error 6036. Thus, below is how to use the Scan and Repair feature to solve this problem.
Close the game and all background processes.
Launch the Battle.Net application and choose Games from the top menu.
Choose your game from the Games menu.
Select Options from the screen's right pane and then click on Scan and Repair. 
Begin Scan and let the process complete.
Restart your computer after completing the above process and inspect whether Dev Error has disappeared or not.
Also know: How to Fix Overwatch 2 Not Launching on Windows 11, 1O PC
---
Fix 7: Try disabling cache sun shadows and cache spots
Cache spots and cache sun shadows may lead to Warzone Dev Error 6034/6036 when you try joining a multiplayer game. Hence, it is better to disable them. Here are the steps to do so.
Launch the game and go to its main menu.
Select Options and then choose the Graphics tab from the top vertical menu.
Navigate to the Shadow & Lighting segment and disable both Cache Spot Shadows and Cache Sun Shadows. 
Apply the above changes and restart your game to see if the Warzone Dev Error 6034/6036 is fixed or if it persists.
---
Fix 8: Force re-update the game
If you have updated the game recently, there are chances that you might have installed corrupt update files. Therefore, you need to re-update the game to fix the Warzone PC Dev Error 6036. Below is a simple step-by-step process to do it.
Close the game if it is running on your computer.
Go to the game's main installation folder. Usually, it is present in C:\Program Files (x86).
Delete all the files, leaving behind only Blizzardbrowser, Main, and Data.
Launch the game from the Battle.net client to restart it.
Carry on with the update feature after getting the game corrupted error.

---
Call of Duty: Modern Warfare/Warzone Dev Error 6036 Error Fixed
This write-up helped you fix Dev Error 6036 on PC. You may try fixing the issue from the first solution and keep going down the list of fixes until the problem disappears.
If you do not have much time to try all the solutions, you may use Bit Driver Updater to update drivers and fix the issue instantly.
In case you have any doubts or questions related to this post, you may share them through the comment section.
Author: Snehil Masih
Snehil Masih is a professional technical writer. He is passionate about new & emerging technology and he keeps abreast with the latest technology trends. When not writing, Snehil is likely to be found listening to music, painting, traveling, or simply excavating into his favourite cuisines.