Are you looking for the best Evernote alternatives and competitors? Then you are in the right place. In this article, we're going to discuss the best alternative to Evernote that you can use in 2023. So, let's take a look at which Evernote Competitor provides the best features.
Gone are the days of using different notebooks to take notes, frantically writing your research notes on notecards, and writing down thoughts on sticky notes that end up in unexpected places. Thanks to digital note-taking tools like Evernote, managing notes, ideas, and tasks has become more convenient and efficient for professionals, students, and anyone with a creative mind.
Evernote has been a dominant note-taking application for years, but even the most popular tools have their flaws. Despite their recent price hikes and alleged layoffs of almost all their staff, more and more people are starting to explore Evernote's replacement. It's no surprise, given the growing demand for reliable and innovative note-taking tools that can keep up with the fast-paced nature of modern life.
Fortunately, there are several note-taking apps available that offer similar, if not better, features than Evernote. In this article, we have compiled a list of the 7 best Evernote alternatives and competitors that are worth considering.
7 Best Evernote Alternatives and Competitors
Whether you want a feature-rich, sophisticated program or a simple text-based app where you can scribble down your ideas, you will love these Evernote alternatives. So, without further ado, let's find out some of the best alternatives to Evernote that you can use in 2023.
1. Microsoft OneNote
Microsoft OneNote is our top pick for the best alternative to Evernote. MicrosoftOneNote, which was formerly included in the Office package, is now a stand-alone application. Despite being a Microsoft product, OneNote is a cross-platform app that works well on Windows, Mac, iOS, and Android.
Microsoft OneNote is a free alternative to Evernote that offers a range of features, including syncing across multiple devices, handwriting recognition, and integration with other Microsoft Office apps. Additionally, OneNote has a web clipper that allows you to save web pages directly from your browser.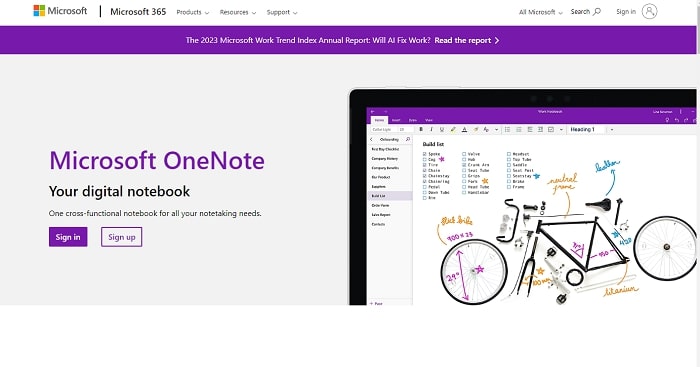 Features:
You can use it on an unlimited number of devices for free.
Use a stylus or your finger to scribble down ideas and annotations.
Use Web Clipper to quickly save web content.
Share notebooks with friends, family, or coworkers.
Include mixed-media notes with video, audio, and other files.
---
2. Google Keep
When looking for the best Evernote alternatives, Google Keep does it best. Google Keep is a free Evernote replacement that offers features such as color coding, voice notes, and reminders. It also integrates with other Google apps like Google Docs and Google Calendar. To enhance your note-taking experience, Keep offers a variety of tools.
This Evernote competitor is capable of handling lists, images, audio, and other formats in addition to text notes. It is interesting to note that transcription of audio recordings and character extraction from text-containing images are both possible. One of the best features of Keep is that there is no storage limit. That allows you to save as many notes as you want.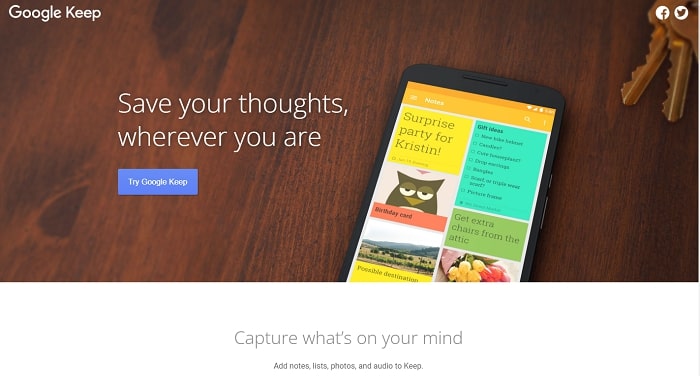 Features:
It can help you pin, label, and color-code the notes.
Real-time note-sharing is possible.
For note dictation, there is a speech-to-text feature.
Compatible with both iOS and Android.
Use labels and color coding to arrange your notes.
Also Read: Best Tor Browser Alternatives to Use in 2023
---
3. Apple Notes
Another one of the best Evernote alternatives on our list is Apple Notes, designed specifically for Apple users. It offers features such as checklists, sketches, and attachments, and it syncs seamlessly across all of your Apple devices. Apple Notes has an easy-to-use interface with fundamental formatting options.
Even though it is straightforward, this Evernote replacement supports tables, making it simpler to sort and arrange information. Along with table support, Notes allows you to save documents, images, and sketches on your Apple devices. However, Apple Notes is only accessible to Apple users, unlike other cross-platform services.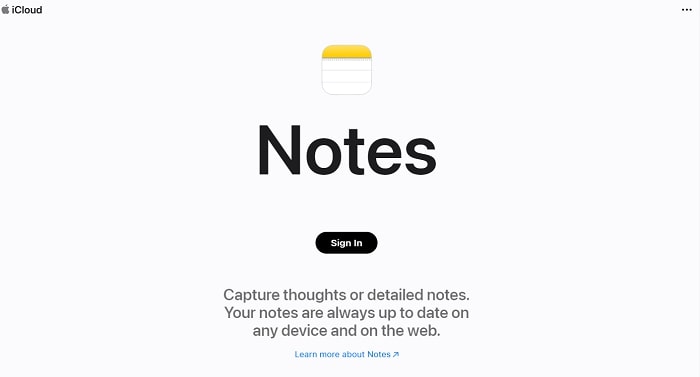 Features:
iCloud allows you to sync your notes across all of your devices.
You can easily pin important notes, so they will be easier to find later.
Make checklists that you can cross off as you complete them.
Use headings, bold, italics, underlining, strikethrough, and other formatting features.
Use the app to scan and sign documents.
Include attachments such as a website, image, video, or Google map.
Create folders to organize your notes.
---
4. Zoho Notebook
Zoho Notebook is one of the best alternatives to Evernote for enhanced note-taking tasks. It offers features like audio notes, sketches, and to-do lists. It also has a web clipper and syncs across multiple devices. The cross-platform service includes mobile support, enabling you to use the app directly from your Android or iOS handheld.
There are many great things about this Evernote alternative. It enables users to design notebooks with eye-catching front covers. Additionally, you can use a card system to group the notes into distinct categories. Furthermore, you can make the most of this application by utilizing a helpful tagging system that allows you to search the notes.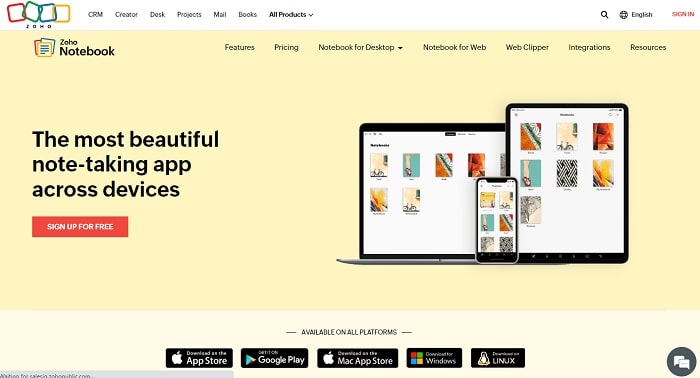 Features:
Linux, iOS, Android, Windows, and Mac platforms are all supported.
You can navigate the app and arrange your notes by using pinch and swipe gestures.
Create unique notebooks by adding image covers and color-coded note cards.
Utilize tags to find and arrange your notes.
Secure notes with Touch ID or passcodes.
Automatically sync notes from all of your devices to the cloud.
Also Read: Best Reddit Alternatives in 2023
---
5. Simplenote
As its name suggests, this note-taking service is considerably easier to use than Evernote and other Evernote alternatives. It offers features like tagging, version history, and syncing across multiple devices. Developed as a cross-platform app, Simplenote runs well on Windows, Linux, Mac, Android, and Mac.
This note-taking tool supports collaboration features, so you can discuss ideas with other users, just like other Evernote competitors do. It also includes a web app and supports Markdown. Simplenote is a great Evernote replacement to consider if you are looking for a note-taking app that allows you to focus on the text.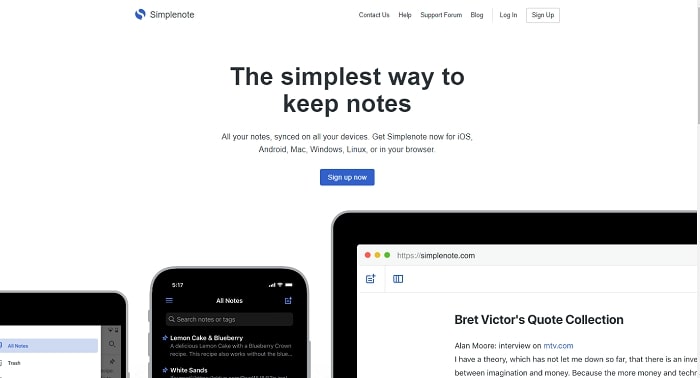 Features:
Accessible on Linux, macOS, Windows, Android, iOS, and popular web browsers like Chrome.
Real-time and automatic synchronization.
With the instant search feature, you can quickly find notes by adding tags.
Share your notes with others or publish them online.
Create notes in Markdown format and publish them after previewing them.
---
6. Dropbox Paper
DropboxPaper is yet another best Evernote alternative that is ideal for team collaboration. DropboxPaper enables you to add and edit notes as a group. In addition, it provides a task management tool that enables you to delegate tasks, add deadlines, and mention team members in documents in real-time.
Additionally, Paper is one of the best alternatives To Evernote because it correctly displays the preview when you paste a link to almost anything into your note. Including YouTube videos, Pinterest boards, Google Maps, SoundCloud clips, and GIFs. Not to mention that anyone, including left-handed people, can easily access the content. Thanks to the application's left-hand menu.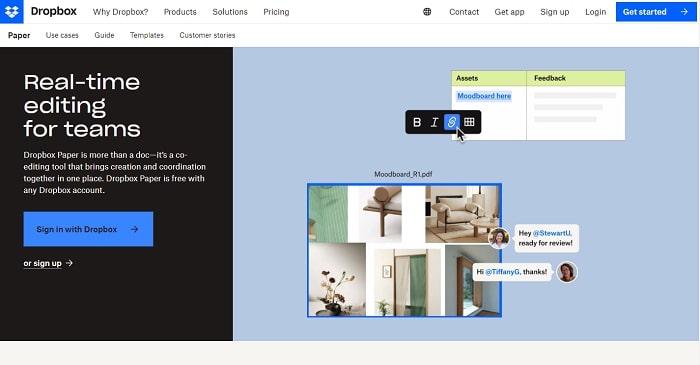 Features:
Compatible with Android, iOS, and Windows.
It includes various templates, such as ones for meeting minutes, a launch plan, brainstorming, creative briefs, project plans, onboarding new employees, and product specifications.
Give feedback on specific areas of an image.
In a single step, transform paper documents into professional-looking presentations.
With task management tools like task assignments, due dates, reminders, and task completion, you can streamline your to-do lists.
Incorporates Sketch, Dropbox, Invision, Slack, and other services.
Also Read: Best Tor Browser Alternatives to Use in 2023
---
7. Notion
Notion is yet another best Evernote alternative that focuses on team collaboration. It provides a wide range of project management features, allowing you to design your workflow with Kanban boards, tables, and lists. The team wiki feature is exclusive to Notion and enables you to compile your team's knowledge into a searchable database of solutions.
Notion is a full-featured workspace for all of your tasks, projects, and notes. Despite being a paid app, it offers a number of sophisticated features like databases, templates, and integration with other programs like Google Drive and Trello. Overall, Notion is a fantastic Evernote replacement that you can use.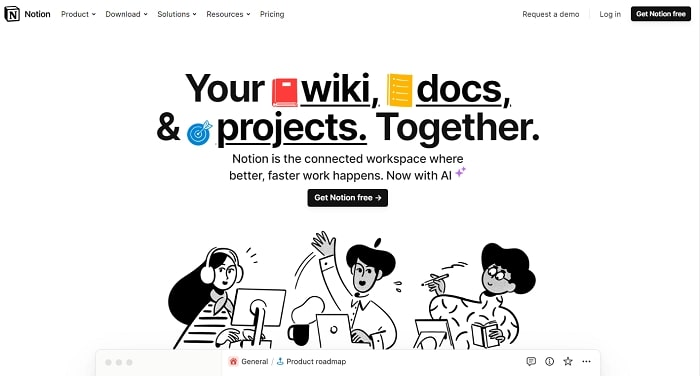 Features:
Apps come in a variety of formats, including web, desktop, iOS, and Android.
Create templates for any project type, even pages with multiple layers.
Create databases or a team wiki using tables.
Dropdown menus and nested hierarchical organization.
When you need input or responses, collaborate in real-time and mention your colleagues.
Invite coworkers to contribute to your notes, or share them with the entire team.
Create an information hub for your team's work by embedding 500+ additional apps inside your Notion pages.
---
Key Takeaway
This concludes our list of the best Evernote alternatives. All the note-taking apps mentioned here are extremely useful. However, which app is best for you is entirely dependent on your use-case scenario and requirements.
Please let us know which one catches your attention after checking them out. Additionally, if you already use a good note-taking app that you believe is a worthy alternative to Evernote, please share its name with us in the comments section below.
Author: Snehil Masih
Snehil Masih is a professional technical writer. He is passionate about new & emerging technology and he keeps abreast with the latest technology trends. When not writing, Snehil is likely to be found listening to music, painting, traveling, or simply excavating into his favourite cuisines.