Gmail is a lot more than just an email service provider. Every day, millions of people use it as a platform, a productivity tool, and an exclusive inbox experience. However, if you find accessing Gmail from your Mac browser a bit of a drag, opt for the best Gmail apps for Mac
Around 2 billion people worldwide regularly use Gmail. The official Gmail app, which is compatible with contemporary web browsers and Android and iOS devices, has won the hearts of some users. However, some people yearn for improved performance, greater functionality, and cutting-edge email tools. By downloading Gmail apps for Mac, these Gmail power users can take their email experience to a whole new level.
With the help of these apps, you can utilize Gmail to its fullest potential and finish more tasks faster. However, it can take some time and effort to figure out which Gmail app for Macbook is most appropriate for your professional needs. No worries! We have already done the difficult work for you. In this article, we have listed the 7 best Gmail apps for Mac that you can use in 2023.
7 Best Gmail Apps for Mac To Use in 2023
Gmail is among the most widely used email services for good reason: it is safe, simple to use, and has a ton of features that can increase productivity. However, that does not imply that it has no flaws. Numerous apps and extensions have been developed by developers to fill in the gaps and enhance the functionality of the platform. Here, we will go over the 7 best Gmail apps for Macbooks that you should be aware of.
1. Mimestream
The "native" Gmail experience on your Mac may be best achieved with Mimestream. It is one of the best Gmail apps for Mac that uses the Gmail API to deliver a highly responsive interface for Gmail. The app supports all of the standard Gmail features, including the ability to send email from any of your set-up Gmail identities, email labeling, inbox categories, Google profile photos, filters, Calendar integration, and the ability to cancel sending emails.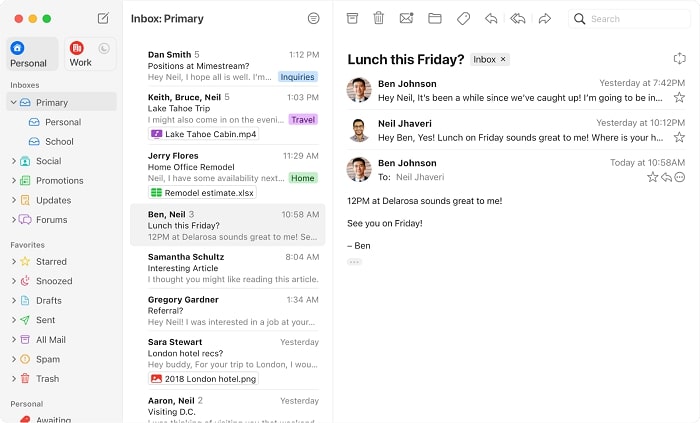 Mimestream allows you to add multiple accounts and switch between them whenever you want. You can also use a unified inbox view to view all of your mail in one place. This contains labels to make it clearer to you where the email is coming from. This Gmail app for Macbook offers support for setting up vacation or out-of-office auto-replies, snoozing messages to display them later on, and support for code blocks and markdown formatting.
Mimestream provides a certain degree of protection against tracking by blocking certain services, in addition to having a professional appearance on your Mac desktop. You can use Mimestream on up to 5 devices and as many Gmail accounts as you would like with the individual plan, which costs $49.99 per year after a free 14-day trial.
---
2. Mail for Gmail
If you enjoy the way Gmail looks online, you will also enjoy using Mail for Gmail. It has a nearly identical appearance to the Gmail website. On the right side of this Gmail app for Mac, you can even access your Google contacts, Calendar, Tasks, and Keep. You can also access Google Drive, Docs, Sheets, and other web-based apps by clicking the Google Apps icon.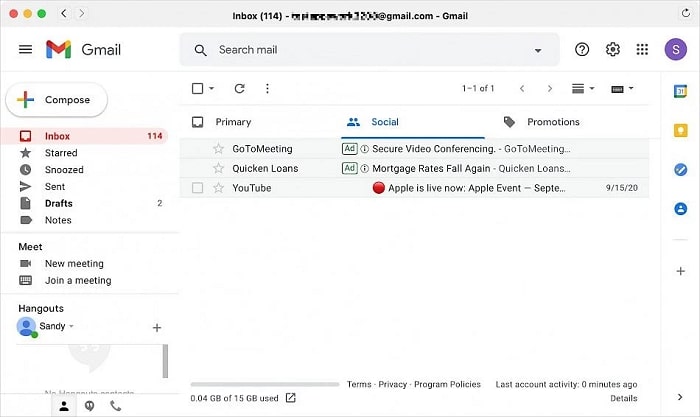 Additionally, you can also use other features, like changing labels, accounts, forwarding, and signatures, by clicking the Settings button. Alternatively, by downloading this Gmail app for Mac, you can quickly alter the Reading Pane, Inbox Type, Density, and Theme. Create or join a Google Meet, send emails in the familiar Gmail format, and utilize the advanced search tools you are accustomed to using with Mail for Gmail.
This app can display native system alerts whenever you receive a new message, just like all the well-designed and best Gmail apps for Mac. Additionally, you can include a badge dock icon with an unread email counter. However, due to the developer's desire to keep things straightforward, not many other notable additional features are supported. However, given that Mail for Gmail is completely free, it is difficult to criticize it.
Also Know: Best Free Screen Recording Software For Mac in 2023
---
3. Kiwi for Gmail
Kiwi was one of the initial Gmail apps for Macbooks that was intended to enable Gmail on the desktop in the form of a standalone application. The app provides support for every Google Suite app and includes multiple account management options to make managing personal, professional, educational, and other accounts simple. There are three price tiers for Kiwi for Gmail. Some of the more practical features are exclusive to the more expensive plans.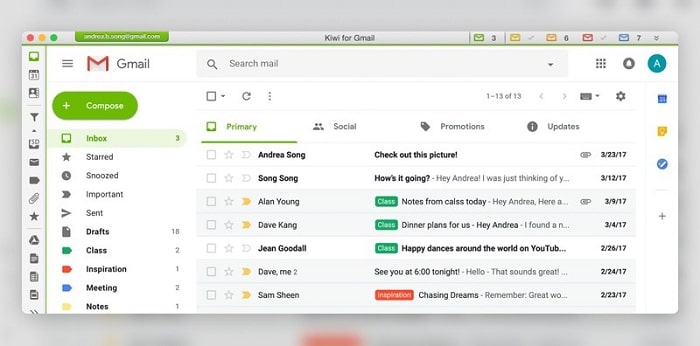 For instance, a feature known as Focus Filtered Inbox provides you with a Today View that displays everything that has arrived today. If you would prefer, you can change the settings so that it only displays emails from the previous two days or more. You can also further narrow down the messages that arrive based on Gmail's assessment of their importance, whether they contain attachments or other factors. This is only available on the "Premium" tier and higher.
However, if you have a Premium account or higher, you can restrict these to only "Important" emails as determined by Gmail. Kiwi for Gmail is one of the best Gmail apps for Mac that supports native macOS notifications across all tiers. Additionally, there is a "do not disturb" toggle that allows you to silence your mailbox for the remainder of the day. There is also a Premium-level widget that provides you with a brief overview of your unread messages via a widget for your menu bar.
---
4. Boxy Suite for Gmail
If you are searching for a Mac email client, Boxy Suite for Gmail is a great Gmail app for Macbooks because it was created with Mac users in mind. As its name implies, the app also serves as a comprehensive suite for all of your Google apps. Here, you will also discover other helpful tools like Boxy for Contacts, Boxy for Calendar, and others. This is fantastic if you want a single app to house all of your essential Google apps.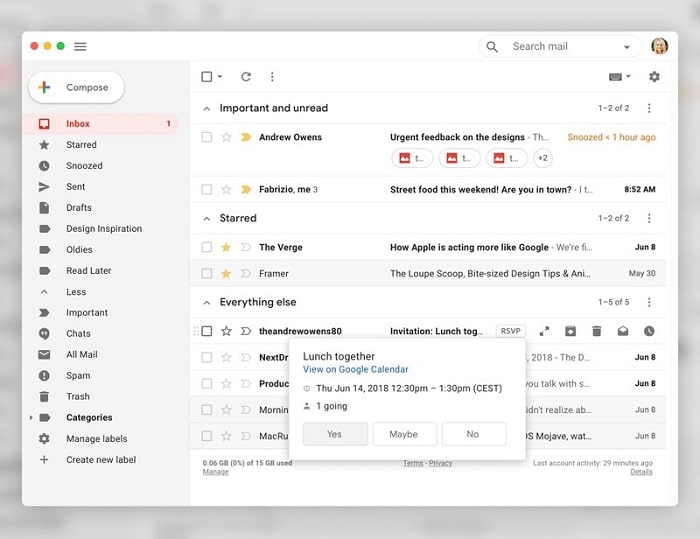 The Boxy Dashboard, which presents a summary of the status of all of your applications on a single page, is one of the most useful features. Boxy Suite was created to be as stunning and flawless as Apple's own apps, and it works perfectly with macOS as well. To guarantee that emails always load instantly, this Gmail app for Mac can automatically pre-load your email accounts as they load.
Limiting the number of tabs you open and viewing all of your apps on one page will help you stay productive and organized. As a result, Boxy Suite is a fantastic choice if you are looking for an email tool to keep up with everything. Boxy Suite is a subscription-based product, but you can sign up for a free trial first to see how it works.
Also Know: Best VPNs For Mac
---
5. Go For Gmail
Go For Gmail is a standalone Gmail app for Mac that is accessible via your Mac's menu bar. But it looks and feels very much like the Gmail inbox that we are all familiar with. This app is also available for Mac users to use in desktop and mobile viewing modes. By default, the desktop mode displays your inbox in a full-screen app.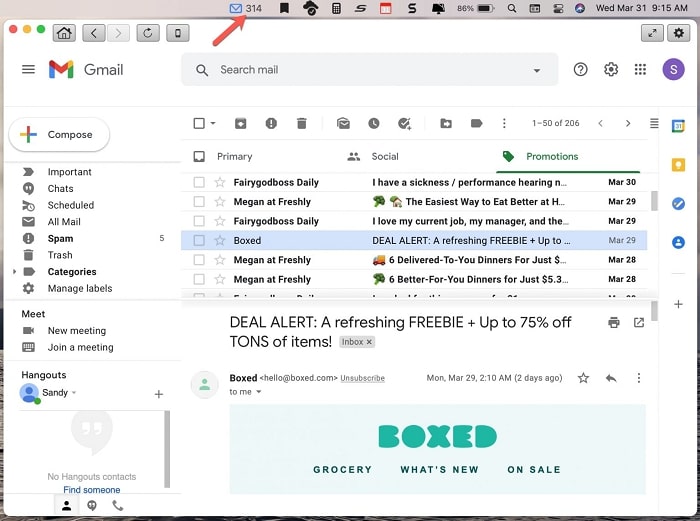 You can keep a compressed version of your mailbox open while using other applications when you are in mobile mode. This is beneficial because you will not constantly have to switch to a different website while Gmail is open, and you can always monitor your inbox on a regular basis. Other features of this Gmail app for Mac include online access to Calendar, Tasks, and Keep, as well as other Google apps and services.
Additionally, it lets you search, compose, use Meet, change your Gmail settings, alter the interface, personalize notifications, and more. Go For Gmail is a straightforward app with few frills that will give you a more in-control view of your mailbox on your desktop. Despite only being accessible on desktops, the application is free at present.
---
6. Mailtab for Gmail
Another of the best Gmail apps for Mac that allows you to sort and view your inbox without opening a web browser is Mailtab for Gmail. This is especially convenient because it eliminates the need to launch an application in order to check your email. There are not many additional features available for Mailtab, though. Although it is a useful tool, it will not provide you with any extras like dark mode, email prioritization, etc.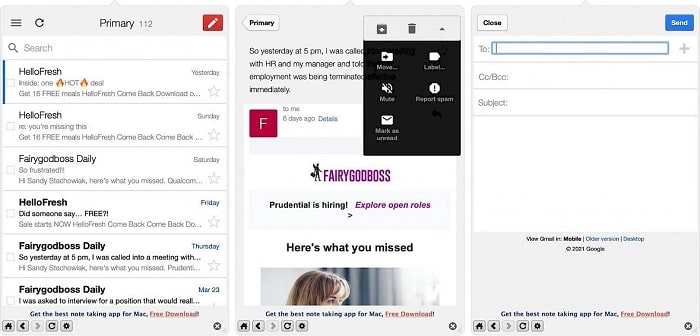 Similar to Go For Gmail, this app has a very low learning curve because it is based on Gmail's default inbox. There is no restriction on how many Gmail accounts you can create or switch between. You can download this Gmail app for Mac to personalize the notifications and turn on auto-correct. Read emails, respond to them, mute, move, or report spam, as appropriate.
MailTab for Gmail does not have a lot of fancy features, but that is exactly why you might like it. Nevertheless, it is free, making it a good option if all you need is a simpler way to access your Gmail on a Mac. Check it out if you want quick access to your inbox from the menu bar.
Also Know: Best Free Image Viewer Software For Mac [Updated 2023 List]
---
7. Mailplane For Gmail
This fully-functional Gmail app for Mac provides you with even more capabilities compared to the online inbox itself. You do not need to become familiar with a completely new system because the application itself appears exactly like your Gmail inbox. Because Mailplane is a desktop application, you can access Gmail without opening a browser.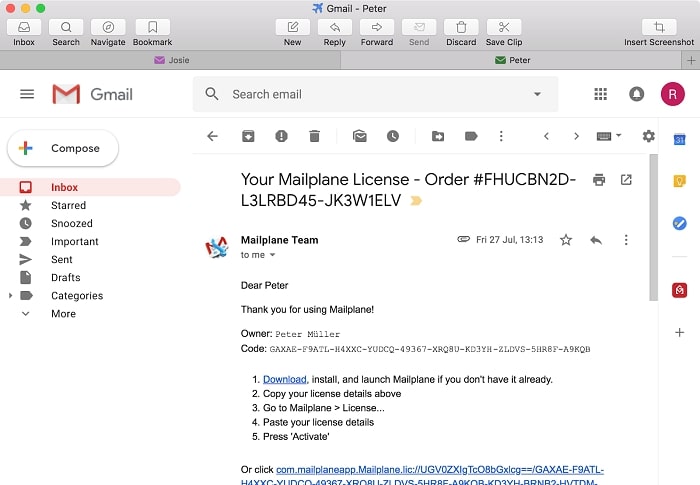 It is a great feature to be able to link multiple emails, so you do not have to log in and log out of various Gmail accounts in order to access your inbox. Additionally, you will receive an email notification on your screen whenever a new email arrives. It also has an editor that enables you to annotate and shape any attached images.
Not only that, but Mailplane also integrates with a number of other programs you may already be using, including Boomerang, Grammarly, and Simplify Gmail. Furthermore, it has integrations with other programs like Apple Photos, Evernote, and OmniFocus. It has a helpful tool that enables you to quickly annotate attachments from within Mailplane.
---
Key Takeaways
There is no lack of excellent and practical tools that you can use to enhance your Gmail experience. The apps mentioned above are some excellent options if you are looking for the best Gmail apps for Mac. These apps provide all the features you could possibly need, including access to other Google apps in addition to Gmail via a menu bar button for quick access to your inbox. So we hope that your search for an ideal app ends here.
Author: Snehil Masih
Snehil Masih is a professional technical writer. He is passionate about new & emerging technology and he keeps abreast with the latest technology trends. When not writing, Snehil is likely to be found listening to music, painting, traveling, or simply excavating into his favourite cuisines.