As the demand for engaging video content has grown lately, the acceptance of the best free screen recorder for Mac has also increased. There are many reasons why someone might need to record their Mac screen. It can be really helpful for creating online courses, capturing Zoom meetings, offering technical support, and even saving gameplay highlights. Fortunately, there are numerous free screen recording software for Mac users that provide a variety of functions and capabilities.
So, how does screen recording software work? It simply captures everything that occurs on your screen, including the cursor's movement. With the aid of screen recording software, you can capture your desktop for YouTube videos, tutorials, lessons, and more. These best free screen recorders for Mac allow you to record videos from your Mac's screen and webcam.
It can be simple to create and share screen recordings on your Mac if you have the right tools in place. But which one is the best? In order to assist you in selecting the best option, we have put together a list of the 7 best screen recorders for Mac. So, let's find out.
7 Best Free Screen Recorders For Mac In 2023
Here are the top 7 free screen recording software for Mac, so you can record anything from software tutorials to gameplay to presentations to team communications to online meetings. So, to help you find the ideal option, take a look at our analysis.
1. Camtasia
Camtasia, which advertises itself as an all-in-one video editor and screen recorder, has everything that makes it one of the best free screen recorders for Mac. It comes with a variety of tools that give you more control over key elements. The studio-like design and layered timeline facilitate seamless mixing and editing. Which makes it possible for you to produce screencast videos with ease. Additionally, Camtasia provides a variety of visual effects, such as a special "green-screen" feature that enables you to add your own image to the video and appear to be a participant in the action.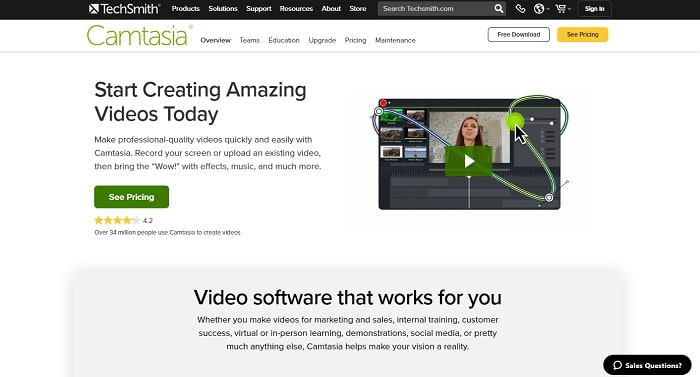 Videos made with Camtasia have the capability to work on all types of devices and let your audience engage in hot zones as you configure them. It also has the capability to convert any short video to a GIF with animation, which is a very useful feature. This function is extremely useful when you want to quickly demonstrate a task or workflow to a colleague. This free screen recording software for Mac is ideal for producing presentations, marketing videos, or tutorials directly from the Mac screen.
Features of Camtasia :
It gives you the ability to simultaneously record your webcam and your screen.
Records sound from the system as well as the microphone.
You can quickly identify key elements on the screen by using cursor data.
The ability to edit your videos and add templates, effects, and other assets.
Recording can be started or stopped with ease.
Also Read: How to Take Scrolling Screenshots in Windows 11, 10
---
2. Snagit
Snagit would be the ideal solution for your needs if you do not require the expert-level tools that Camtasia provides but still need the same degree of dependability. It appears to be somewhat lightweight from an interface perspective and is much simpler to learn how to use. The primary purpose of this free screen recorder for Mac is to annotate screenshots in still and moving image formats. It is very useful to have options like simultaneous screen and webcam recording, audio recording, and replaying previous recordings.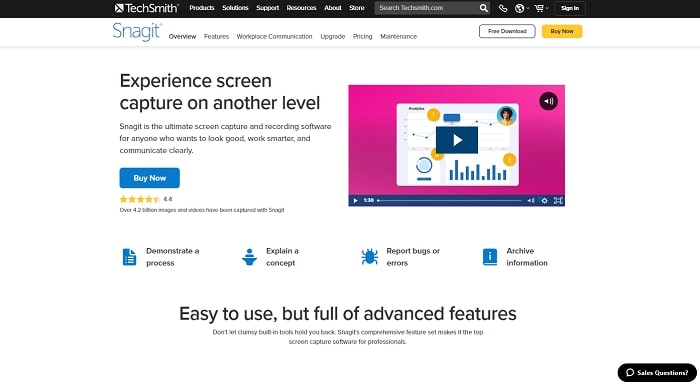 Snagit also allows you to recognize and edit the words, fonts, colors, and sizes of text in screenshots, as well as add custom stickers to your photos. Other features include the ability to move objects on your screen, rearrange buttons, and delete text. This free screen recording software for Mac also includes a special "scrolling capture" mode that allows it to quickly and easily share screenshots of lengthy web pages. Additionally, it enables you to export videos as GIFs, which comes in handy in a variety of circumstances.
Features of Snagit:
Long chat messages or webpages with infinite scrolling can be captured using a panoramic scroll capture.
Simple sharing integration with well-known applications like Slack, Google Drive, Teams, and others.
It provides a screenshot toolbar that enables you to quickly record your screen or select specific frames from your recorded video.
It is simple to record your workflow using the step tool.
---
3. ScreenFlow
ScreenFlow is an advanced video editing program that provides extensive capabilities for Mac users. It is one of the best free screen recorders for Mac that enables you to capture screen activity, record clear audio, and produce polished content in a user-friendly interface. Users can also use animations, transitions, and annotations to improve the overall appearance of their videos. Additionally, there are numerous Integration options available on the screen recording platform, making it simple to upload and share your finished videos on your preferred platform.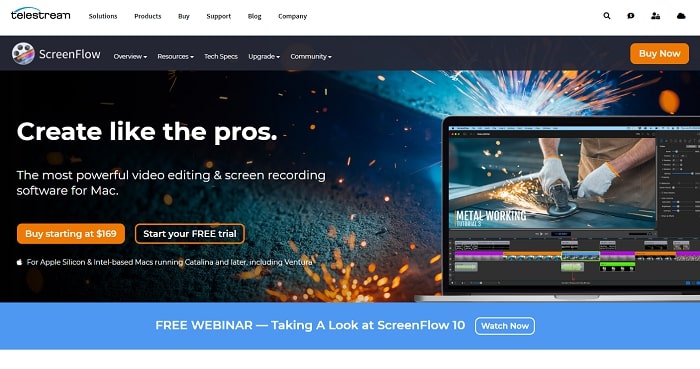 Another element that deserves attention in this free screen recording software for Mac is the multi-track timeline. Which makes it possible to manipulate visual elements. Additionally, there is a Motion control feature, which enables you to zoom in on a specific area of the screen where a particular action is occurring. Overall, ScreenFlow allows you to capture Mac screens more precisely while avoiding a steep learning curve.
Features of ScreenFlow:
Features for professional screen recording and editing
mixing audio channels in multiple channels
Easy sharing through seamless integration with popular platforms
Allow pausing and restarting recordings as well as hotkey use.
Directly upload recorded videos to websites like Vimeo, Google Drive, YouTube, Dropbox, etc.
Quickly export high-resolution recorded files.
Also Read: Best Free Image Viewer Software For Mac [Updated 2023 List]
---
4. Screencast-O-Matic
ScreenPal, formerly known as Screencast-o-matic, is likely the most intriguing piece of screen recorder for Mac on this list. With the help of its extensive tools, Screencast-o-matic lets you record your screen, your webcam, or both at once. Additionally, the platform has an integrated library of stock photos, videos, and music tracks that you can use to enhance and add to your video.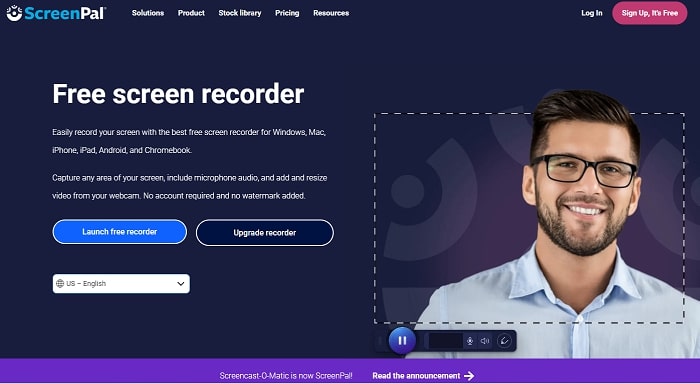 This is also the first free screen recorder for Mac on this list that falls under the category of freemium. This implies that it provides a basic version that you can use at no charge as much as you like while charging extra for advanced functions. Screencast-o-Matic is one of the best screen recorders for Mac that operates by installing a "launcher" on your computer; recording sessions are started via the website. You are able to regulate who views your content and how they consume it by paying a fee for the screen recording platform to host your videos on its server with a unique video player.
Features of Screencast-o-matic:
For additional videos, pictures, and sounds, there is a built-in stock library.
Easy-to-use interface for starting and stopping recordings.
makes it simple to create and upload content to YouTube.
Toolbar option for screenshots.
---
5. OBS Studio
You can record videos and stream live with Open Broadcaster Software (OBS) Studio, an open-source and free screen recorder for Mac. Its adaptable features make it the preferred screen recording application for professionals, gamers, and content producers who need to record, edit, and share videos. OBS Studio provides a variety of screen recording options that let you manage recording parameters like frame rate and resolution. OBS Studio also offers real-time audio mixing for recordings that are of the highest quality.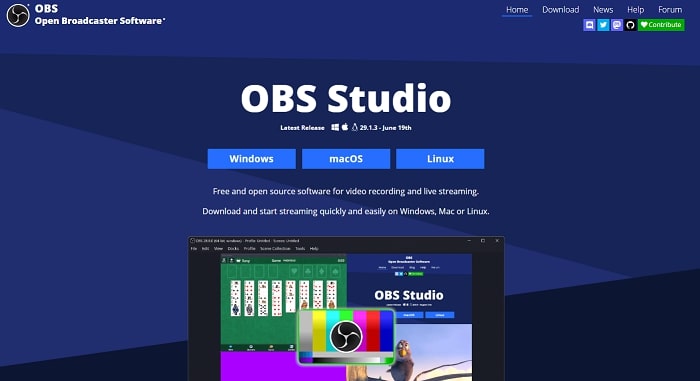 For those who prefer greater control over the end result, it is one of the best screen recorders for Mac, with a ton of robust customization options and a ton of third-party plugins to increase functionality. Additionally, the software enables you to precisely control a number of parameters when recording video, which is very useful when you want to have complete control. If you are looking for a strong, cost-free option to capture your screen, this is the best option that you should look into.
Features of OBS Studio:
The program has an active development community and is open-source and free.
In addition to a screenshot toolbar, there are many customizable settings for recording audio and video.
Instantaneous audio mixing.
Several third-party plugins are available that you can use to add the features and changes you want.
Also Read: Best VPNs For Mac
---
6. Movavi
Using Movavi's screen recorder tool, you can record both video and audio from your computer screen in order to make presentations, tutorials, and other things. With this best free screen recorder for Mac, you can quickly start and stop recording as well as change settings. Movavi's screen recorder comes with fundamental editing tools as well as add-ons such as keystroke display and cursor effects. That allows you to highlight crucial information as necessary.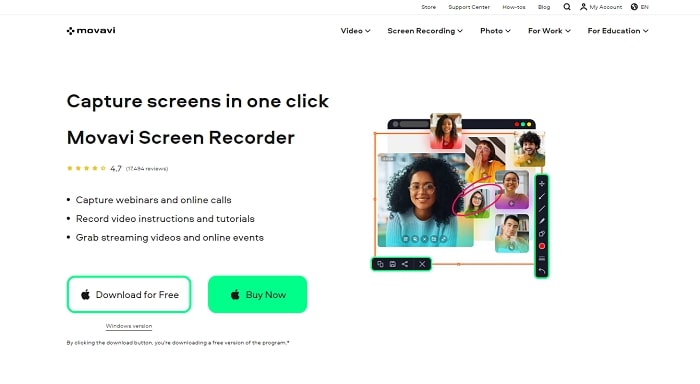 Setting up recording parameters is surprisingly easy with this free screen recording software for Mac. Simply choose the capture area, make the necessary settings adjustments, and you are ready to go. After recording the screen, you can edit it with all the fundamental tools. Additionally, you can use the SuperSpeed tool to convert videos so that you can export them in high quality while adding mouse effects and scheduling recording. To give yourself even more control over recording, you also have the choice of choosing your own shortcuts.
Features of Movavi:
You can start and stop recording automatically with the help of practical scheduling options.
A screen record has a variety of output formats and sharing options.
Enables you to simultaneously capture screen activity with your webcam on your Mac.
Screenshot toolbar function.
Can use audio from the system or a microphone.
---
7. ScreenRec
Instead of attempting to communicate your point through email and chat, ScreenRec claims to expedite your process by enabling you to quickly record and share videos on your Mac's desktop. The software offers a simple user interface where users can share a screen recording with just a few clicks or automatically stop or start recording.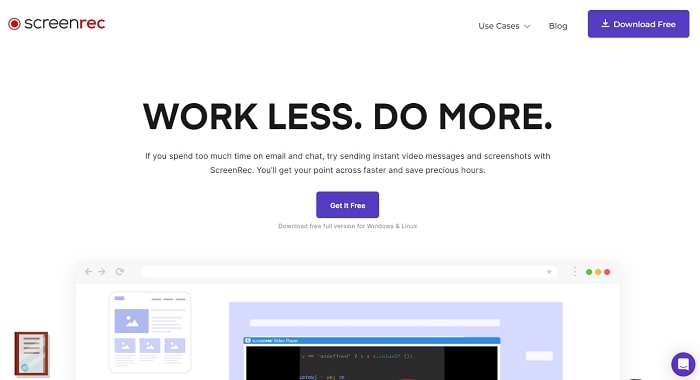 This free screen recorder for Mac has cloud storage capability for safe and unlimited sharing, as well as the ability to create a shareable link that can be shared with coworkers and customers. Additionally, it has features that users might find useful, like the ability to create annotated screenshots.
Features of ScreenRec:
During the screen recording, you can use the real-time annotation feature to add highlights and notes.
Once you begin recording, it immediately generates shareable links.
Cloud storage for unrestricted and secure storage.
A comprehensive history of recordings.
Online and offline webcams and screen recording.
---
Key Takeaway
So, here we come to the end of our list of the best screen recorders for Mac. We have selected apps that offer advanced functionality or are simple to use while considering a number of different requirements. However, before you install any free screen recording software for Mac, set out your objectives.
So, which one has grabbed your attention? Is it the one with the most professional-grade tools or the one that combines the best features of both? Please let us know in the comments section below. Additionally, please let your fellow readers know if you think we missed any of the best free screen recorders for Mac.
Author: Snehil Masih
Snehil Masih is a professional technical writer. He is passionate about new & emerging technology and he keeps abreast with the latest technology trends. When not writing, Snehil is likely to be found listening to music, painting, traveling, or simply excavating into his favourite cuisines.