Japanese fashion jewelry and apparel brand AMBUSH collaborated with Active Theory, an American digital creative agency, launched its first metaverse on Monday, 14 March 2022.  The brand's metaverse would be known as SILVER FCTRY. According to the press release, this metaverse would be a dedicated digital space for fashion enthusiasts and people to enter the AMBUSH Universe. It would entail runway shows, showcase past collections, allow the participants to scavenge for limited items, and interact with other members inside the metaverse.
The brand actively shared the updates on its metaverse on Twitter and even shared a couple of images. It looks like a virtual spacecraft with a unique chain-like exterior. Moreover, reportedly, the metaverse has four rooms that would provide distinct and enriched AMBUSH experiences beyond the real world. Each room would offer a different brand experience, including a shop exclusive to the metaverse space. The users or members could purchase items and interact with digital items similar to how they'd do in a real-life AMBUSH Workshop. Other rooms would display a record of past collections and collaborations and a prospectus of the latest campaigns, including special brand motifs. There is also a playful park area in the SILVER FCTRY; here, the brand plans to allow the visitors to participate, explore, and attend virtual events, adding an interactive spirit to its metaverse.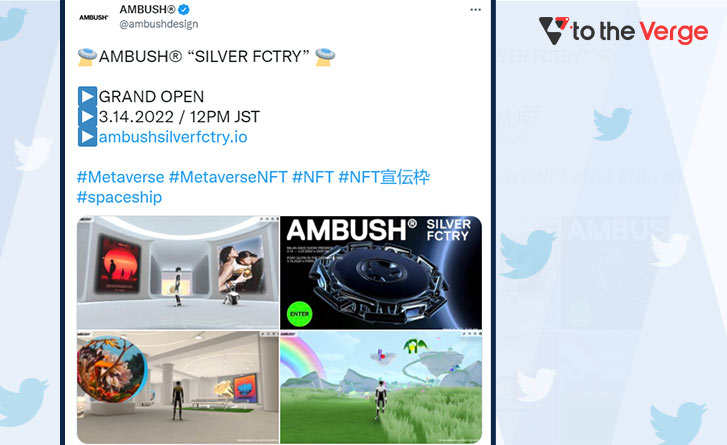 The users can access the metaverse by visiting the website curated by the brand. They would then be transported to the chain exterior futuristic spacecraft, and the portal would dress their avatar in a spacesuit. They can also change their suit color. In addition, visitors can connect mics and talk to other avatars or parties, choosing between various viewing options such as first-person, third-person, and aerial view.
Furthermore, on its roadmap, the brand reveals how the SILVER FCTRY would connect to its official NFT project, including exclusive products, events, and access for NFT holders.
Earlier this year, the brand dropped its first, the POW! Reboot NFT. It was an inaugural token to mark its entry into the metaverse and Web3 space. Recently, it released a teaser for the new POW! GLOW IN THE DARK NFT. The minting for this would begin on 18 March 2022 and will happen inside the metaverse — SILVER FCTRY.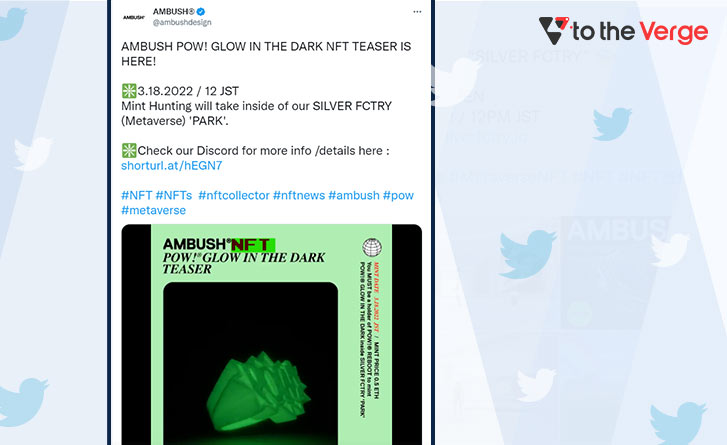 The AMBUSH SILVER FCTRY will be open for visitors and members from 14 March to 25 March for a special launch event and can be accessed through the given link: ambushsilverfctry.io.
Author: To The Verge Team
Our aim is to chase the future, innovations, and the latest trends of all things tech. We love to interact with industry experts, understand their diverse and unique perspectives, and spread their ideas.